A man has been sentenced to life in prison for murdering a man with an axe during an argument over a pedigree chihuahua, while a second man has been remanded in custody and will be sentenced next Monday for manslaughter.
Josh Turner, 24, of Mooretown, Ratoath, Co Meath, received a mandatory life sentence for the murder of Christopher Nevin at Tailteann Road, Navan, on 19 November 2015.
His co-accused, Wayne Cluskey, 25, of the same address, was remanded in custody by Mr Justice Patrick McCarthy to be sentenced next week. He was found not guilty of murder but guilty of the manslaughter of Mr Nevin.
The court heard during the trial that Turner had loaned Mr Nevin a male chihuahua to breed with three female chihuahuas. But only one of the dogs became pregnant and a dispute arose over what Turner would be paid.
In his evidence to the trial Turner said that Mr Nevin had agreed to pay him and that is why he and Cluskey called to Mr Nevin's house that November afternoon.
Mr Nevin was struck with an axe several times during an altercation outside the house.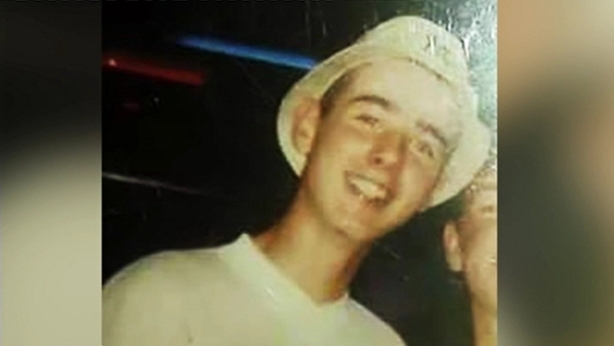 Cluskey and Turner went voluntarily to Navan Garda Station four days later and admitted their roles in Mr Nevin's death.
Turner claimed that he had lost control after Mr Nevin threatened him and struck Cluskey.
Cluskey said that he was defending Turner when he ran in carrying the axe.
During today's sentencing hearing, the court heard that both men were sorry for the pain and suffering caused to Mr Nevin's family, and are very remorseful at the tragic loss of Mr Nevin's life.
Two victim impact statements by Mr Nevin's widow and mother were read to the court. Lisa Nevin said her last memory of her husband was of him lying in a pool of blood, an image that she has tried to block from her mind.
She said her husband loved life, and had a heart of gold. Mrs Nevin said no one knows the pain that she is in. She said: "It's like a nightmare that never ends".
Mary Nevin, mother of Christopher Nevin, said no words can express how she feels. She said her family is broken and will never be the same again.
Mrs Nevin said her son had been robbed of his future. She said the trial got too much for her, knowing that she was in the same room as the men who had killed her son.
The court was told that the Nevin family was not in a position to accept an apology from Mr Nevin's killers.