The tribunal set up to investigate an alleged smear campaign against garda whistleblower Sergeant Maurice McCabe has held its first public sitting at Dublin Castle.
The Disclosure Tribunal, as it has been officially named, chaired by Supreme Court Judge Peter Charleton, will examine allegations that senior gardaí were involved in a smear campaign against Sgt McCabe, among other issues.
In his opening statement Mr Justice Charleton outlined the purpose of the tribunal and what its general plan of work would be.
Supreme Court Judge Peter Charleton outlines the modules that will be examined in the Disclosure Tribunal pic.twitter.com/6IRMATB9he

— RTÉ News (@rtenews) February 27, 2017
He said the tribunal is to urgently inquire into a range of matters, all of which hinge on how top officers in An Garda Síochána react when concerns are aired as to the performance of the force.
The centre of concern, he said, was whether such reaction had possibly not only been one of distaste but of active and thought-through malice.
He said there was also an additional question, as to whether those who air concerns may be targeted in their family life.
We need your consent to load this rte-player contentWe use rte-player to manage extra content that can set cookies on your device and collect data about your activity. Please review their details and accept them to load the content.Manage Preferences
Mr Justice Charleton stressed that these were "as yet unknown."
He said there would be two modules in the tribunal - the first module will concern Garda Commissioner Nóirín O'Sullivan and former commissioner Martin Callinan and others at the highest command level to disclosures made by Sgt McCabe.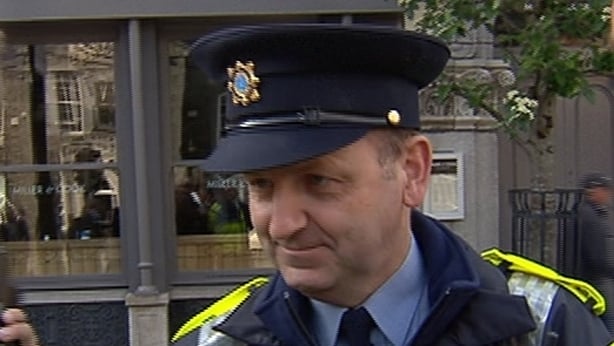 The second module will deal with members of the force that made protected disclosures and whether they were mistreated as a result.
The tribunal will abide by existing court rules but rules of evidence will not apply, and hearsay is admissible, Mr Justice Charleton said.
He also said the tribunal was a drain on the resources of the Irish people and was being paid for by taxation. 
Every lie told to the tribunal would, he said, be a waste of what ordinary men and women have paid for through taxes.
He said the tribunal was expected to get on with its work and deliver results rapidly, adding that there were no preconceived notions as to "who is a villain and who is a victim".
Mr Justice Peter Charleton says the Disclosure Tribunal will abide by existing court rules, the rules of evidence do not apply pic.twitter.com/8Bgtq7rGxN

— RTÉ News (@rtenews) February 27, 2017
It is expected to be some time before the tribunal begins to hear testimony from witnesses.
Mr Justice Peter Charleton calls on anyone with information to contact the Disclosure Tribunal pic.twitter.com/AlhIAePKJu

— RTÉ News (@rtenews) February 27, 2017
Today's opening statement comes sooner than had been expected - less than a fortnight after its terms of reference were published.
The tribunal was set up after Sgt McCabe rejected plans for a Commission of Investigation, calling instead for the inquiry to be held in public.
The terms of reference say the tribunal will report in nine months time and provide an interim report to Government in three months.
We need your consent to load this rte-player contentWe use rte-player to manage extra content that can set cookies on your device and collect data about your activity. Please review their details and accept them to load the content.Manage Preferences