US-backed Iraqi forces pushed deeper into western Mosul today, aiming to capture a bridge across the Tigris which would link the city's government-held eastern bank with the ongoing offensive against remaining militants in the west.
The bridge is the southernmost of five bridges spanning the Tigris. All were damaged in strikes by the US-led air coalition, and later by so-called Islamic State fighters trying to seal off the western bank still under their control.
"The bridge is very important," said Colonel Falah al-Wabdan of the Interior Ministry's Rapid Response Unit, one of the two main forces spearheading the campaign in western Mosul.
Army engineers plan to rehabilitate the bridge to allow troops to bring in reinforcements and supplies directly from the eastern side, he said.
Iraqi forces captured eastern Mosul in January, after 100 days of fighting. They launched their attack on the districts that lie west of the Tigris a week ago.
If they defeat IS in Mosul, that would crush the Iraq wing of the caliphate that the group's leader Abu Bakral-Baghdadi declared in 2014 over parts of Iraq and neighbouring Syria. The US commander in Iraq has said he believes US-backed forces will recapture both Mosul and Raqqa - the IS stronghold in Syria - within six months.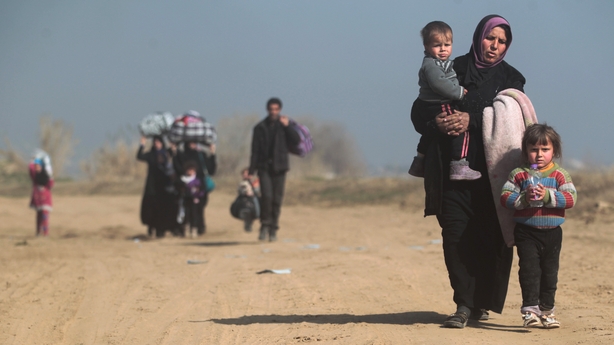 Hundreds of people have fled the fighting in the direction of government lines since Thursday, at least 1,200 of them in the early hours of today, according to a Counter Terrorism Service (CTS) officer.
Of those, several dozen had been forcibly taken into Mosul in the early stage of the offensive from nearby regions to serve as human shields.
IS forced tens of thousands of people to leave villages south of Mosul and walk alongside the jihadists as they retreated in late October towards the city. Thousands of them were freed in earlier stages of the offensive.
We need your consent to load this rte-player contentWe use rte-player to manage extra content that can set cookies on your device and collect data about your activity. Please review their details and accept them to load the content.Manage Preferences
Iraqi troops have already captured the southern and western accesses to western Mosul, dislodging the militants from the airport, a military base, a power station and one residential district, al-Maamoun, according to military statements.
Commanders say they will soon complete the recapture of two others residential district, al-Tayyaran and Hawi al-Josaq.
They are currently about 3kms from the old city centre and the main government buildings, the capture of which would effectively mean the fall of Mosul.