A 35-year-old woman has been found not guilty of murder but guilty of the manslaughter of her housemate.
Monika Matracka, from the Pines, Briarfield, Castletroy, Co Limerick, had denied murdering Michal Rejmer between 30 and 31 December 2015.
Matracka and Mr Rejmer had been in a relationship that broke up but they continued to share a house.
He was reported missing on 6 January 2016 after colleagues became concerned when he had not been seen for a week and had missed a number of shifts at work.
Matracka had lied to gardaí who came to investigate his disappearance.
She said she had not seen him for days but they worked shifts and that was not unusual.
She also said she had sent him a text message to wish him a Happy New Year.
However his body was later found in the garden of their home and Matracka broke down and admitted stabbing him.
She said she was acting in self defence.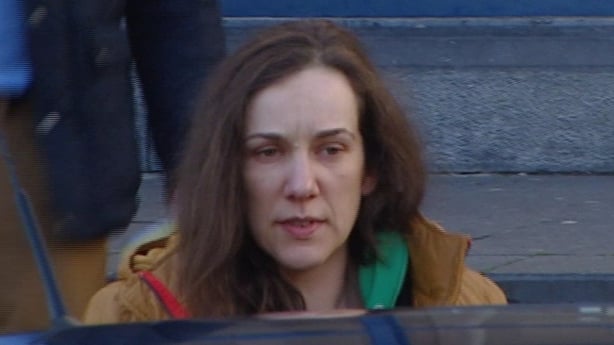 She told gardaí her housemate had come to her room with a knife, screaming and demanding money he had given her for her studies some years earlier.
She said he fell down the stairs and she picked up the knife and stabbed him in self defence.
In closing arguments to the jury, her lawyers said her behaviour after Mr Rejmar died was "bizarre, shocking and outrageous". However, they said her lies did not make her a murderer.
They said she was involved in a row which had a terrible ending. She was in "robotic mode" when she went to work, leaving the body in the house.
It remained there for three days before she moved it outside to the garden.
Defence counsel Mark Nicholas said it was a cover-up of "amateur, frantic and panic proportions" and when the truth came out she resolved the case through her admissions.
He reminded the jury of the evidence of the state pathologist who said the cause of death was unusual as someone would not usually be expected to die from stab wounds to the arms.
However, the prosecution said her claim of self defence was "a leap too far".
Prosecuting counsel Paul Carroll said her interviews with gardaí contained inconsistencies and embellishments and did not match up.
He reminded the jury that she had moved the body to a different room in the house before moving it outside, had gone to work and had cleaned up the scene and burned a number of items including the knife.
He also said she had texted the victim's number to wish him a Happy New Year and dialled his number several times up to 5 January.
He said she had ample opportunity to say something when gardaí first began to investigate his disappearance but said nothing as his body lay in the back garden under plastic.
He said the victim also had puncture wounds to his thigh and lower back, indicating a use of excessive force.
After five hours and 38 minutes of deliberation since yesterday, the jury found her not guilty of murder but guilty of manslaughter by majority verdict.
She was remanded in custody and will be sentenced at a later date.
The court heard there will be no victim impact statement.