Extra bus lanes are planned for the busiest sections of Dublin's quays to prepare for the Cross City Luas.
The city council is proposing to have the restrictions on private cars in operation by August this year using the Road Traffic Act, which does not require the consent of councillors.
In a report to the Transport Committee, council management states the Cross City Luas will be halting traffic movement on the Quays every 90 seconds when it becomes operational in December and congestion will be made worse unless there are changes to the traffic flow.
The report says that Bachelors Walk currently causes the worst delays for Dublin Bus vehicles trying to cross two lanes of traffic to turn onto O'Connell Bridge.
As a result the council is planning to ban private cars from travelling from Bachelors Walk onto Eden Quay or turning right onto O'Connell Bridge.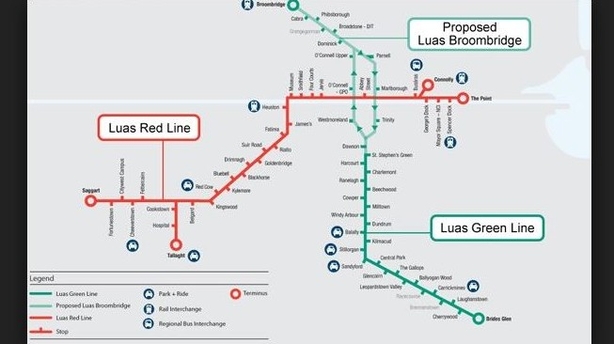 Cars will be allowed to turn left onto O'Connell St to access car parks and allow deliveries.
It is planning to introduce an extra bus lane on the north quays along Ormond Quay, Bachelors Walk and Eden Quay.
Eden Quay from O'Connell St to Marlborough St will be used only by public transport, taxis and cyclists.
The south quays will have an extra bus lane along Burgh Quay, Aston Quay and Wellington Quay.
In addition, there will be a new bus lane on Winetavern St at Christchurch for traffic coming onto the quays.
The plan will go out for a six-week public consultation starting on 27 February.
The council quotes a report from consultants Caas Ltd stating that an Environmental Impact Assessment (EIA) report is not required because of the size and impact of the plan.
The same consultants recommended an EIA for the College Green plaza plan which consequently has to go to An Bord Pleanála for approval.
Meanwhile, AA Director of Consumer Affairs, Conor Faughnan, has said that although the extension of the Luas line will be a huge boost to Dublin city's transport system when it opens in December, it will bring a number of problems.
He told RTÉ's News at One that overall, the advantages will outweigh the disadvantages but there will be a number of pinch points for traffic.
He said that the new system will cater for buses and cyclists along the Quay's but cars will no longer be able to cross Bachelor's walk onto Eden Quay.
He said that the council have not provided a solution for this traffic.