Microsoft has announced the creation of 600 jobs for Dublin today with the bulk of the positions at a new inside sales centre at the company.
Inside sales is the process of selling remotely by phone or online, and is a model favoured by many technology firms.
The new Microsoft sales centre will employ 500 staff, who will sell the company's software and services to customers in Europe, the Middle East and Africa.
Hiring is to begin immediately, and the positions will be filled over the next six months. The new jobs are being supported by IDA Ireland.
100 further positions are also being created across Microsoft's other operations in Ireland.
These include roles in finance, operations, engineering and sales.
Microsoft has been in Ireland since 1985 when it opened a small manufacturing facility employing 100 people.
Since then it has grown its presence considerably and currently has 1,200 full-time employees and 700 full-time contractors.
Its Irish operations include software development and testing, localisation, operations, finance, IT, HR and sales and marketing, serving both the domestic and Europe, Middle East and African markets.
It has four units here - an EMEA Operations Centre, European Development Centre, the Irish sales and marketing subsidiary and its EMEA Data Centre.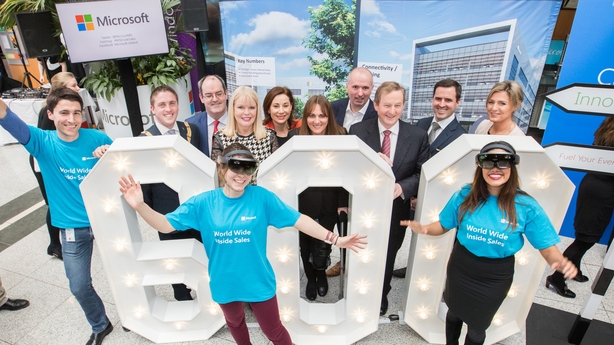 A new €134m 34,500sq/m campus currently being built by the company in South County Business Park in Leopardstown is nearing completion.
Cathriona Hallahan, Microsoft Ireland's managing director, said the company's team in Ireland has a long track record of helping the overall Microsoft group to deliver its vision and strategy.
Ms Hallahan thanked the Government and IDA Ireland for helping to bring the latest company's latest investment to fruition.
Martin Shanahan, IDA Ireland's chief executive, said that Microsoft's decision to create 600 jobs in addition to its current workforce is testament not only to the company's continued commitment to Ireland but also to the high calibre technical talent that is readily available throughout the country.
"Microsoft's dynamic Irish workforce has facilitated the delivery of the firm's global strategy. Microsoft's expanding presence in Dublin further strengthens the capital city's international reputation as a leading technology hub," he added.
Taoiseach Enda Kenny also said that the new jobs underlines the strong commitment of Microsoft to its Irish operation.
"The establishment of their Inside Sale Centre is a testament to the attractiveness of Ireland as a location with our strong commitment to our EU membership, a competitive tax regime, a business-friendly environment and a skilled workforce with high levels of education," Mr Kenny added.