A man who lost his wife and daughter in a road traffic crash involving a learner driver has welcomed a jury's recommendation that gardaí should be given the power to impound a car driven by an unaccompanied learner driver.
The proposal calling on the Minister for Transport to amend traffic legislation was made by the jury at the inquest into the deaths of Geraldine and Louise Clancy, who both drowned after their car was struck from the side and forced into a ditch by a car driven by a learner driver, near their home in Kilworth Co Cork.
Last November, 21-year-old law student Susan Gleeson pleaded guilty to dangerous driving causing the death of the two women on 22 December 2015.
She received a three-year suspended sentence and was disqualified from driving for 15 years.
At the inquest today, Gleeson apologised to the family again and said she thinks about Geraldine and Louise everyday.
She told the court that she drove into their car after she misjudged a junction and failed to stop at a yield sign.
Both women drowned after their car plunged up-side down into a ditch in a flooded field.
Gleeson agreed with Senior Counsel Patrick McCarthy, speaking on behalf of the Clancy family, that had she had a full licensed driver with her, there was a good chance it would not have happened.
She was driving on her own in her father's car at the time of the crash.
The court heard that Gleeson had been driving for eight months - mainly at weekends and had had nine driving lessons.
She admitted she was driving fast at the time and was distracted thinking about an appointment she had.
She said she was in shock after the crash but did not initially believe that the impact was as serious as it later turned out to be.
But it soon became clear to her how serious the collision was.
She described seeing Noel Clancy, Geraldine's husband, with his head in his hands.
When she heard they were dead she said she could not breathe and was totally in shock.
She hugged Mr Clancy and told him how sorry she was and he told her he did not blame her.
In an interview with RTÉ News last month, Mr Clancy spoke about his devastation after the loss of his wife and daughter.
A man who lost his wife and daughter in a car crash just over a year ago speaks about his devastation and efforts to make the roads safer pic.twitter.com/YeYFFpgl1M

— RTÉ News (@rtenews) January 6, 2017
Witnesses recount scene after crash
Two witnesses, Tom Kennedy and Edwin Dick, gave evidence of driving behind the Clancys' car before the crash and its aftermath.
Mr Dick said the two women were trapped in the car in the ditch.
The car was slipping further into the water but they could not get out of the seat belts.
One of the men at the scene was holding Louise Clancy's hand and she was screaming.
Mr Dick said it was his view that Gleeson was driving excessively.
Had she not struck the car she would have gone through the ditch herself, he said.
Tom Kennedy said he directed traffic on the road while others tried to rescue the women.
He remarked that the sun was low-lying and Gleeson would have been driving into it.
Forensic crash investigator Garda Mark O'Connor said while the road was wet, driving conditions were good at the time and both cars were in good condition.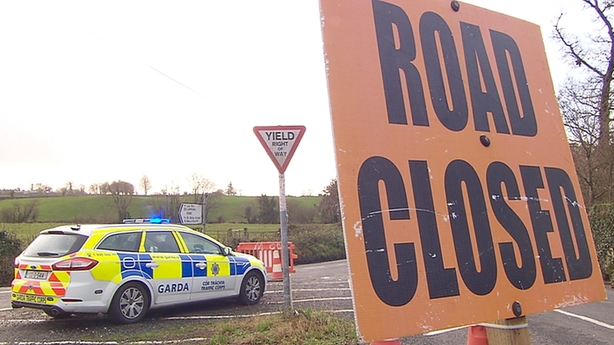 He agreed that there were a number of unfortunate circumstances; the wide drain and the flooded conditions made it impossible for anyone to be able to open the doors to rescue the women.
The court was told that the Yield sign at the junction has since been replaced by a Stop sign. However, the gap in the ditch, which has been there since 2009, remains.
Noel Clancy gave evidence of coming upon the crash and not realising for some time that it was his wife and daughter who had died.
He described helping to remove the car from the ditch but not recognising his daughter Louise when she was taken from the car and remarking that she was dead.
It was only when he checked the number plate that he realised it was his wife's car and that the victims were his wife and daughter.
He asked the jury that when returning their verdict that they would call on the Minister for Transport to ensure that if a garda stops a car driven by a learner permit holder that they have the power to impound the car.
Currently, gardaí can only issue on-the spot fines and penalty points.
He also told the court that in December an amendment was made to the Road Traffic Act now making car owners accountable if they give their car to a learner permit driver.
He also asked that the death certificate issued in April 2016 be amended to read death by drowning due to a road traffic collision rather than death by drowning so that future generations will have a record of it.
Coroner Michael Kennedy said this was a terrible tragedy for all involved, made worse by the fact that Mr Clancy did not realise it was his own family when he was helping at the scene.
He said no words he could say could comfort the Clancy family but maybe there will be some solace found in the recommendation made by the jury.