The Taoiseach told the Dáil that a public tribunal of inquiry will be established to find out if there was a smear campaign against garda whistleblower Sergeant Maurice McCabe orchestrated by senior gardaí.
Sgt McCabe issued a statement yesterday saying he strongly opposed an inquiry that would be held in private. He and his wife Lorraine said there is now "no reason to have any secret or private inquiry".
Speaking during Leaders' Questions, Enda Kenny said he hopes that the terms of reference for the public inquiry will be concluded within the next 48 hours.
Enda Kenny: 'An effective process to deal with' the alleged smear campaign is required pic.twitter.com/5g11J8zLEN

— RTÉ News (@rtenews) February 14, 2017
Independent Alliance minister Finian McGrath is understood to be seeking a 12-month tribunal and wants a senior forensic accountant to be involved in it.
Fianna Fáil's justice spokesperson Jim O'Callaghan has already submitted proposals for the terms of reference and other parties are expected to do the same.
Sgt McCabe and his family have welcomed the inquiry and in a statement tonight said they would await the publication of the full terms of reference before making any further comment.
Live: Political updates | Watch: Dáil Éireann
In the Dáil, Fianna Fáil leader Micheál Martin said he met Sgt McCabe last night, adding: "The McCabes made it clear that they will never go through a commission of investigation again."
'There was an attempt and a campaign to undermine the integrity of Maurice McCabe' - Micheál Martin pic.twitter.com/DDwweaVKZs

— RTÉ News (@rtenews) February 14, 2017
Mr Kenny responded by saying "the entire country has sympathy for Sgt McCabe and his family".
He said Sgt McCabe has pointed out the appalling litany of his treatment and there is nothing worse than being called a child abuser.
Mr Kenny said the perception of the gardaí at higher levels has not been what it should be and it will take some time to change that culture.
He said: "What is required here is an effective process to deal with the central issue, which is 'was there a deliberate smear campaign against Maurice McCabe by senior gardaí?'."
The Taoiseach added: "I want to be very clear, when we proceed down the road of a tribunal of inquiry we have to be very clear that the presumption of innocence stands for every citizen."
"I can confirm that we have agreed in principle that we are to set up a tribunal of inquiry under the 1921 Act," Mr Kenny added.
Sinn Féin leader Gerry Adams told the Dáil that garda whistleblowers were smeared, bullied and maligned and suffered eight years of public defamation and vilification.
In response to Sinn Féin's Gerry Adams, Taoiseach said: 'You're an absolute hypocrite after what you said and did to Senator Máiría Cahill' pic.twitter.com/LARpdX7Or1

— RTÉ News (@rtenews) February 14, 2017
The Taoiseach in response said he was "an absolute hypocrite after what [he] said and did to [former] Senator Máiría Cahill".
Mr Adams accused Mr Kenny of playing politics with "a sensitive and personal issue".
Taoiseach accused of having a 'casual relationship' with the truth
AAA/People Before Profit TD Paul Murphy accused the Taoiseach of having a casual relationship with the truth. 
He said Mr Kenny's admission that he never spoke with Minister for Children Katherine Zappone ahead of her meeting with the McCabes had implications.
He said the Taoiseach had told RTÉ's This Week programme: "Minister Zappone did tell me that she intended to meet with Sgt McCabe in a private capacity. I said if you do have a meeting, make sure you have a thorough account of it."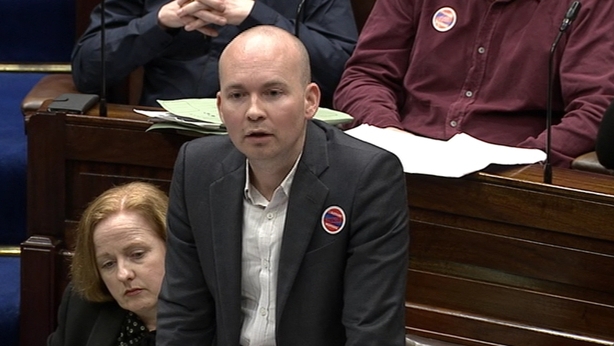 Mr Murphy asked Mr Kenny "you have said that conversation didn't take place, but how could you recount in such detail if it didn't take place?"
"It means at Tuesday at Cabinet you knew about Tusla, but you didn't include it in the terms of reference"
"How can you continue now?", Mr Murphy asked. 
"How can you allow [Garda Commissioner] O'Sullivan to remain in place, how do you know that she will not use her position to obstruct the inquiry?" he queried.
In response Mr Kenny said: "She [Zappone] notified my office, my office told me about that - I put that in the public domain, I regret that I did that. I should not have done it.
"It is not true to say that I had any information about the Tusla file prior to the Cabinet meeting.
"The central issue is, 'was there or was there not a concerted campaign of smear by senior gardaí against Maurice McCabe?', and that's the issue I hope the tribunal of inquiry will address", Mr Kenny said.
When asked if the questions asked by Sgt McCabe in his statement yesterday would be answered before a tribunal is set up Mr Kenny said: "The questions that were posed will be answered in so far as they can be, but there is a clear interaction between the substance of those questions and the establishment of a tribunal of inquiry.
"The Department of Justice will try to answer those questions.
"I hope that can be approved by the Dáil and Seanad this week so that it can start its work at the earliest time".
Wallace calls for Garda Commissioner to be removed from position
Independents4Change TD Mick Wallace has given the Dáil details of text and phone contacts between the Garda Press Officer Dave Taylor and former commissioner Martin Callinan and Commissioner Nóirín O'Sullivan regarding Sgt McCabe.
Mr Wallace said that a journalist had contacted Superintendent Taylor in 2014 to tell him he had spoken to the family of the girl at the centre of the allegations and told him the story would be "really damaging to McCabe".
Mr Wallace said Supt Taylor then texted both Mr Callinan and Commissioner O'Sullivan to tell them, and Mr Callinan texted back welcoming this.
He said Commissioner O'Sullivan called Supt Taylor to "have a good chat" about it.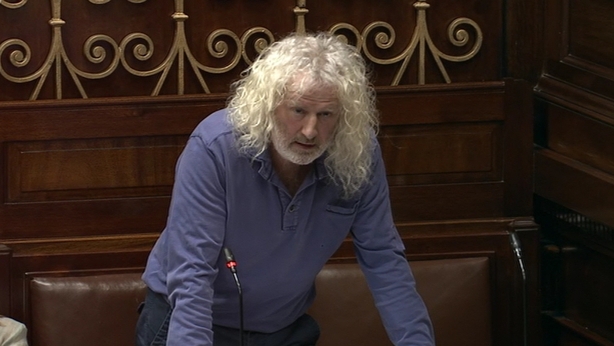 He quoted Supt Taylor as saying "that everyone in headquarters knew about the campaign against Maurice McCabe."
The Taoiseach said Mr Wallace is concluding the outcome of a tribunal of inquiry before it takes place.
He said the Government has agreed in principle to set up a tribunal and he hopes that the terms of reference can be accepted by the Dáil.
Mr Wallace said everyone says the Garda Commissioner is innocent until proven guilty but he said she should be removed from her position.
Mr Wallace said that when Sgt McCabe first raised issues of wrongdoing in 2008, he was trying to change the culture in An Garda Síochána.
He said: "We are now in 2017 and the culture has sadly not changed".
Mr Wallace asked the Taoiseach to get rid of the Commissioner and the hierarchy and start afresh and get a new hierarchy from members of the force lower down who were unable to get promotion because they were "clean".
The Taoiseach said it takes time to change perception and culture. He cited changes to GSOC with the appointment of Judge Mary Ellen Ring as well as the establishment of the independent Police Authority and the protection of whistleblowers.
Screams of monumental mistake, says Martin
The Tusla counsellor who compiled the report containing the false allegations about Sgt McCabe was "essentially discussing this case with a senior garda", Fianna Fáil leader Micheál Martin has told the Dáil.
Mr Martin said: "In essence ... the counsellor who made the report, which turned out to be false, was essentially discussing this case with a senior garda, who seemed to be advising her on how to deal with the error that had been made.
"That is a very serious issue in one respect and an issue that demands clarity from Tusla and An Garda Síochána that does not have to wait on the establishment of an inquiry."
He said "there is something very odd about all of this."
He added: "The interaction between the gardaí, Tusla and the counsellor begs a lot of questions in terms of how this file was created, how it is described as a 'mere administrative error' subsequently and it screams out an incredible casualness about a monumental mistake."
The Tánaiste said there was always ongoing contact between gardaí and Tusla and there was close interaction in relation to child sexual abuse.
She told Mr Martin that she was not sure if it possible to get answers at this point, as this was the essence of of what the tribunal would examine.
She said they would have to follow fair procedure, but she said she acknowledged there were questions about who was involved and when, and what was the intention between gardaí, the counselling service and Tusla.