Taoiseach Enda Kenny has indicated that he may consider holding the investigation into allegations of a smear campaign against the garda whistleblower Sergeant Maurice McCabe in public.
Speaking in Cork tonight, Mr Kenny told RTÉ News he was going to discuss the matter with the Fianna Fáil leader Micheál Martin in the morning.
Asked if he would hold the investigation in public, given an earlier statement from Sgt McCabe that he was "strongly opposed" to any inquiry being held in private, Mr Kenny said he was going to find the most effective way of getting to the truth.
Taoiseach Enda Kenny says he will meet Fianna Faíl leader Micheál Martin tomorrow as calls for McCabe public inquiry grow pic.twitter.com/N1sqjriHpF

— RTÉ News (@rtenews) February 13, 2017
The future of the Commission of Investigation into the Sgt McCabe affair has been put in doubt after Sgt McCabe said he was "strongly opposed" to an inquiry that is due to be held in private.
In a statement to RTÉ News, Sgt McCabe and his wife Lorraine, said the truth had now emerged of the "false and shocking campaign" to vilify them.
They said there is now "no reason to have any secret or private inquiry".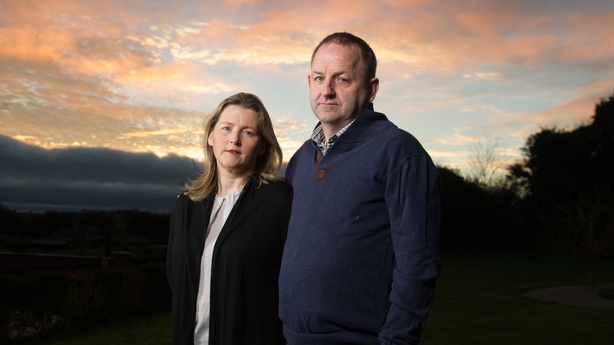 The McCabes said in their statement they had heard Minister for Health Simon Harris saying they were entitled to "truth and justice" but they were not agreeable to that entitlement being "wholly postponed so that another commission of inquiry can conduct a secret investigation behind closed doors and make a report, into which we have no input as of right, in nine or 18 months' time".
The McCabes said they want to have simple answers to a number of questions:
Did a meeting or phone conversation with a senior Garda as sought by the HSE (in relation to the abuse claims) in August 2013 take place?
 
Who was/were the Garda(í) who made/received phone calls to/from the HSE counsellor concerning the false rape offence allegation?
 
Who interviewed the alleged victim in respect of that allegation in May 2014, as claimed by her solicitor?
 
Was any of the foregoing Garda activity reported or recorded within An Garda Síochána? 
 
Was any of the foregoing Garda activity notified formally or informally to senior Gardaí at Commissioner level, and if not why not? 
 
Was any decision made not to inform Maurice Mc Cabe of the making of the 2013 allegation, and if so why and by whom?
"These are simple factual questions to which we, and the Irish public, and their representatives in Dáil Éireann are entitled to simple factual answers now", the McCabe family statement said.
McCabes say they want simple answers to a number of questions pic.twitter.com/2kF58ky0dD

— RTÉ News (@rtenews) February 13, 2017
Yesterday evening, Sgt McCabe and his wife told RTÉ News they have decided to have no further direct engagement with the Health Service Executive or Tusla in the wake of an apology over the file containing false allegations of sexual abuse against him.
The HSE is planning to issue a formal apology to Sgt McCabe today, but will not comment publicly on the issue.
Fianna Fáil and Labour back McCabes' call
Labour leader Brendan Howlin has supported calls by Maurice and Lorraine McCabe for a full public tribunal of inquiry.
"I fully support the McCabe family in their calls for a full public inquiry into the damaging and false allegations made against them," Mr Howlin said in a statement.
"In their pursuit of truth and justice, the McCabe family wishes for a public inquiry must be upheld.
"I believe we now need a full public tribunal of inquiry not just for the McCabe family but to restore trust in our public institutions."
Earlier, Fianna Fáil spokesperson on Justice and Equality Jim O'Callaghan also backed the McCabes' call. 
"Fianna Fáil has long maintained that the response to this issue must have the full support of the McCabe family," said Mr Callaghan.
"Accordingly we fully support their call for a public inquiry to be conducted into this matter. We also believe a public inquiry will benefit An Garda Síochána and the general public."