Sinn Féin has said it will table a motion of no confidence in the Government over its handling of the garda whistleblower controversy.
The Government responded by accusing the party of putting politics before the welfare of citizens.
This latest development comes as the debate continues over what type of inquiry is appropriate into the treatment of Sergeant Maurice McCabe.
Earlier, Labour Party leader Brendan Howlin said Sgt McCabe is in favour of an external criminal investigation into his treatment.
Speaking on RTÉ's Saturday with Claire Byrne, Mr Howlin said he spoke with Sgt McCabe this morning and that he said he is "of the view that something much broader" is needed.
A Commission of Investigation is to examine whether there was a smear campaign against Sgt McCabe orchestrated by senior gardaí.
Questions were asked yesterday about how much the Cabinet knew about the false allegation against Sgt McCabe after it emerged he met Minister for Children Katherine Zappone ahead of the publication of the terms of reference for the Commission of Investigation.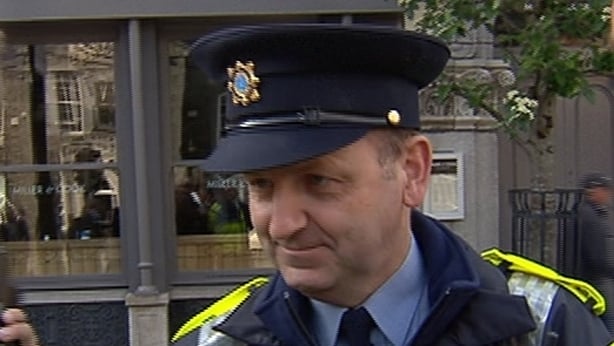 Mr Howlin said an external inquiry would entail an investigation headed by police officers from a force outside of Ireland.
This would require emergency legislation, he added.
The Labour leader also said Sgt McCabe (above) was "wounded" by everything that has happened.
Sinn Féin deputy leader Mary Lou McDonald said that the party will table a motion of no confidence in what she described as a "kick for touch, cover up" Government.
"The Government is clearly unable to deal with the major issues facing our people," said Ms McDonald.
"The hospital waiting list scandal has exposed the Government's complete failure to deal with the crisis in our health service.
"The manner in which they have handled the scandalous campaign of character assassination against Sergeant Maurice McCabe renders this Government unfit for public office.
"Sinn Féin will table a motion of no confidence in this kick for touch, cover-up Government without delay.
"We will be seeking support for this motion of no confidence from all opposition TDs and Fianna Fáil," added Ms McDonald.
We need your consent to load this rte-player contentWe use rte-player to manage extra content that can set cookies on your device and collect data about your activity. Please review their details and accept them to load the content.Manage Preferences
A Government spokesperson tonight described the Sinn Féin no confidence motion as a "nakedly political move".
The spokesperson said that Sinn Féin is clearly putting party politics before the welfare of the country's citizens.
"The Government's focus is on managing Brexit and managing the nation's finances to the benefit of everybody," added the spokesperson.
Earlier Sinn Féin president Gerry Adams called on Fianna Fáil to withdraw its support for the Government over its handling of the Sgt McCabe controversy.
"The Taoiseach should do the right thing - the people deserve an election," Mr Adams told reporters in west Belfast earlier today.
"The Fianna Fáil leader should do the right thing and withdraw his support from this Government."
Mr Adams (below) said: "It's very, very clear that this Fine Gael-led Government is a government without any authority.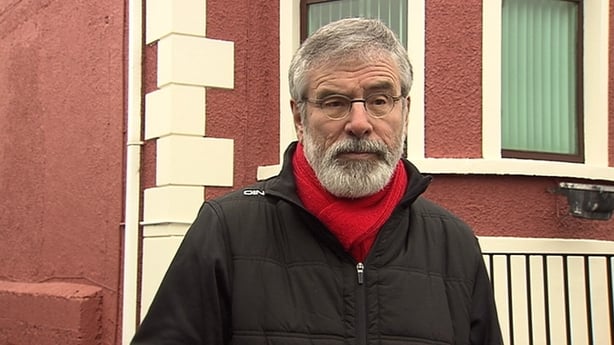 "People are scandalised by the way the Government is taking the public for fools in relation to the whole policing Garda McCabe controversy."
Fianna Fáil strongly rejected Sinn Féin's call that it should withdraw support for the minority Government.
The party's spokesperson on Foreign Affairs and Trade, Darragh O'Brien, said pulling the plug on the Government is not going to get answers.
But Mr O'Brien said his party will demand the Government explain why there is such confusion in Cabinet over this issue.
He said the priority was to ensure that no garda whistleblower ever again has to endure what Sgt McCabe did.
HSE issues apology to Sgt McCabe and his family
The HSE this afternoon apologised unreservedly to Sgt McCabe and his family for the distress caused after a counsellor from the HSE's National Counselling Service sent a file in August 2013 containing false allegations of sexual abuse against Sgt McCabe to Child Protection Services, now Tusla.
In the statement, the HSE said it is satisfied that correct procedure was followed once this error was brought to the attention of its National Counselling Service in May 2014.
"An immediate internal review of guidelines, practices and protocols was undertaken within the National Counselling Service to ensure that such an error would not reoccur. Appropriate training was also undertaken," the statement read.
The HSE also said it was making arrangements to offer its apology formally to Sgt McCabe as soon as possible.