The main investigator in the case against former Anglo Irish Bank Chairman, Sean FitzPatrick, has denied that documents he shredded relating to the investigation were "very important".
Kevin O'Connell of the Office of the Director of Corporate Enforcement said he was ashamed of what he had done and agreed it was an "absolute disgrace".
He has been outlining the events surrounding the destruction of the documents, under cross examination by Mr FitzPatrick's lawyers.
Mr FitzPatrick denies misleading Anglo's auditors and furnishing false information in relation to multi-million euro loans to him and people connected with him.
Kevin O'Connell returned to his office on 1 May 2015, after spending six days in the witness box at Sean FitzPatrick's previous trial.
He had been cross examined for four of those days.
He said he found a number of extra documents - around 16 pages - that were relevant to the investigation in a blue tray in his office.
He brought them to the attention of the Director of Corporate Enforcement, Ian Drennan, and they were sent on to the Director of Public Prosecutions.
But he said he then returned to his office and found around four or five more relevant pages.
He agreed that he took these extra pages and shredded them.
This was the completely wrong thing to do he said.
It was a calamitous mistake and he was ashamed of it.
It should not have happened by any standard, he said, adding that he had never done anything like it before.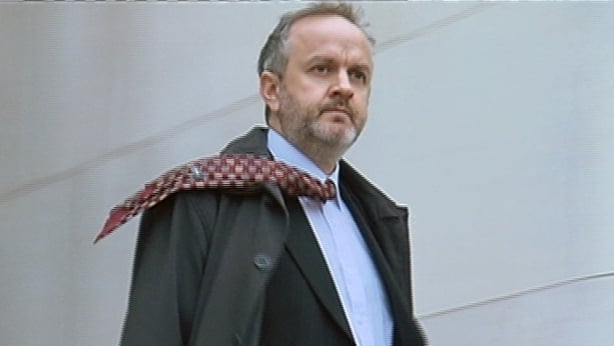 He continued that it was a time of very considerable pressure, more than he had ever before experienced in his professional career.
He panicked and made a "desperate, desperate" mistake.
Mr O'Connell agreed he knew they were documents relevant to the investigation - that was what heightened his panic, he said, and led to him making the worst form of mistake.
He said he just panicked after finding extra documents on top of the 16 pages he had already found.
He knew he would have to go back into court and be subjected to further cross examination and he was "terrified" at that prospect.
He said he could not say what exactly was in the documents he destroyed although he could give a description of the kind of documents they were.
Mr O'Connell denied that the pages he had destroyed were "very important".
Lawyers for Mr FitzPatrick put it to him that it would have been the easiest thing in the world for him to simply send the additional documents on to the DPP.
Senior Counsel Bernard Condon said this raised the very severe concern that what Mr O'Connell had destroyed were very important documents.
Mr O'Connell said this was absolutely not the case.
Mr O'Connell admitted that he had had a conversation for more than half an hour with a garda colleague in his office and had not told him that he had found additional documents.
He agreed that within a minute of his garda colleague leaving the office, he himself was out the door, heading to the shredding machine.
The jury was shown CCTV footage of Mr O'Connell going to the shredding room with a tray containing the documents.
He agreed the footage shows him noticing his garda colleague behind him and then appearing to turn over the documents at the top of the tray and holding them away from his colleague.
He agreed this appeared to be an attempt to conceal the documents.
He said this was another missed opportunity to do the right thing, but he said he had already made his panicked, shameful, unethical decision.
He agreed it was an appalling thing for a State investigator to have done and was an "absolute disgrace".
Mr O'Connell said over the following weekend he had despaired, and agonised and bitterly regretted what he had done.
He had come to the decision that he could not maintain the lie and he rang the Director of Corporate Enforcement on the Monday morning to tell him what he had done.
Mr O'Connell said he recognised people were reliant on the integrity of those given the powers to investigate crimes.
He said on this occasion, to his eternal regret, he had failed those standards.
Earlier, Mr O'Connell was shown a summary of a report compiled after Mr FitzPatrick's first trial was adjourned, by Detective Inspector Ray Kavanagh who was seconded to the ODCE.
Mr O'Connell agreed that his garda colleagues had no involvement in the damaging of disclosable documents.
Inspector Kavanagh had also written that gardaí had no involvement in drafting the witness statements of the two auditors, which were criticised by the judge at the first trial.
Mr O'Connell agreed that Inspector Kavanagh had been present at a meeting where drafting of statements had taken place.