Taoiseach Enda Kenny has confirmed that 5,000 people from the seven countries that are banned from travelling to the United States under Donald Trump's immigration order have Irish citizenship and live in Ireland.
Mr Kenny told the Dáil that they are entitled to be admitted to the US if they present their Irish passports.
In a statement this evening, the US Embassy in Dublin said the "Executive Order does not restrict the travel of dual nationals, so long as they hold the passport of an unrestricted country and possess a valid US visa".
The Embassy also said that there have been no changes to the visa waiver programme of which Ireland avails, but as before, dual nationals of Iraq, Iran, Syria, and Sudan are not eligible and must still apply for a visa.
The Taoiseach also said the individual who was stopped at preclearance from flying from Ireland to the US as a result of the travel restrictions was lawfully working and resident in Ireland and was entitled to leave Dublin Airport.
Over the weekend, Mr Trump put a 120-day hold on allowing refugees into the US, an indefinite ban on refugees from Syria and a 90-day bar on citizens from Iran, Iraq, Libya, Somalia, Sudan, Syria and Yemen.
The Taoiseach yesterday ordered a "complete review" of US preclearance at Irish airports and it is understood that a report will be completed shortly, possibly within a week.
Dublin and Shannon airports are among a small number of sites in the world that offer preclearance to passengers travelling to the US. By clearing customs and immigration checks before departure, they are then treated as domestic arrivals on reaching the US.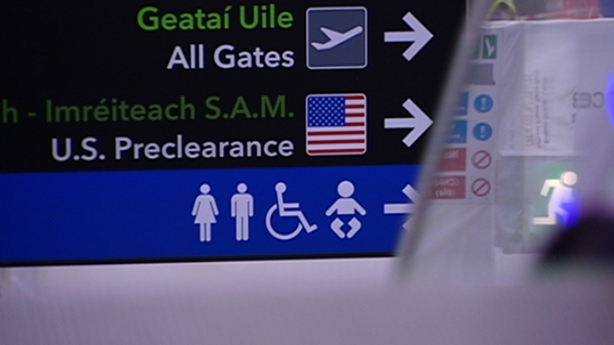 More than a million people used it in Dublin Airport last year and over 200,000 in Shannon Airport.
President Trump's travel ban dominated the political agenda inside and outside the Dáil today.
The Dáil Business Committee has agreed to a Dáil debate on the travel ban next week and are working on an agreed motion criticising the policy.
Earlier, Mr Kenny said if an all party motion could be drafted he had no objection to it.
Taoiseach says he will go to White House for St Patrick's Day
Mr Kenny has confirmed to Cabinet that he is going to the White House for St Patrick's Day.
It was agreed that he should go to Washington and outline the Government's position that it did not support US President Donald Trump's restrictions on refugees.
The Cabinet was also told that a meeting between Irish and US authorities on the matter is due to take place in early March but that could be brought forward.
Legal advice was also given to ministers that preclearance here is legal in all aspects.
Minister for Health Simon Harris made a proposal to Cabinet to have an all-party motion criticising President Trump's policy on refugees.
The motion would be similar to the one passed in the House of Commons and was supported by ministers.
It is understood that Minister Shane Ross said he was not sure if the Taoiseach should go the White House.
In the Dáil, Mr Kenny said he would have no objection to an all-party Dáil motion criticising the US President's executive order banning citizens from certain countries from travelling to the US.
But Mr Kenny said he did not want to see a situation where all-party motions were being tabled every week.
The Dáil also heard calls from AAA-PBP TD Richard Boyd Barrett and Labour leader Brendan Howlin for a special debate on the US president's travel ban.
Call for retention of US preclearance facilities
Speaking during Leaders' Questions, the Taoiseach said the Cabinet had agreed that Ireland wanted to "hold on to preclearance facilities" at Dublin and Shannon Airports.
He said if people are turned back at US immigration at Dublin or Shannon, they are then dealt with under the international protection act 2015.
"Clarification has now been received that if one of those persons present their Irish passport they will not be refused entry", he said.
Fianna Fáil, Sinn Féin and the Labour Party have called for the retention of US preclearance checks at Dublin and Shannon airports, but AAA-PBP has said Ireland should not cooperate with the "racist" immigration policy.
AAA-PBP TD Richard Boyd Barrett said that we need to recognise that a very dangerous, far-right, extremist has taken over as president of the US.
Speaking on RTÉ's Morning Ireland, Mr Boyd Barrett said there is no doubt that Ireland needs to champion the cause of all immigrants, including the undocumented, but grovelling to Mr Trump on St Patrick's Day is not the answer.
He said Ireland has to make a decision on who it stands with.
Mr Boyd Barrett said St Patrick's Day is a huge event in the US and that is why the Taoiseach is invited and it would be a significant political blow for Mr Trump if Mr Kenny snubbed the invitation.
He added that we should tell the [next] US ambassador we are not willing to cooperate with a racist immigration policy nor allow it to be implemented at our airports.
His AAA-PBP colleague Paul Murphy later added that the preclearance facilities should be scrapped, while although they are convenient, that has to be weighed against the fact there is now a racist policy.
Labour leader Brendan Howlin this afternoon reiterated his position that the Taoiseach should not visit the White House for St Patrick's Day, saying he cannot go "happy clappy shamrocky" to Washington.
He said it seems like President Trump wants to undo the enlightenment and it is time to take a stand.
Mr Howlin also described the Government's review of US preclearance as a sop to Ms Zappone. He said he was not calling for it to be abolished but said the policy should be operated in line with Irish laws.
The Social Democrats have called on the Taoiseach to make a "clear and unambiguous statement" about what he will say to the US president when he meets him.
Also speaking on RTÉ's Morning Ireland, Amnesty International Ireland Executive Director Colm O'Gorman said Mr Kenny needs to condemn Mr Trump's move in strong, clear and unambiguous language.
Mr O'Gorman said the order banning immigrants from seven countries and all refugees is clearly unlawful under international human rights law and blatantly discriminates directly on the basis of country of origin, and targets people of a particular faith.
He said he understands that the Taoiseach wants to raise concerns with the US administration, however, he added that Mr Kenny should also be raising his concerns publicly and clearly now.
Mr O'Gorman said he welcomed the review of preclearance facilities in Ireland Mr Kenny announced yesterday.
We need your consent to load this rte-player contentWe use rte-player to manage extra content that can set cookies on your device and collect data about your activity. Please review their details and accept them to load the content.Manage Preferences
Taoiseach 'should attend' St Patrick's Day at White House
The Chair of the Irish Network in Washington DC has said the Taoiseach should attend St Patrick's Day celebrations at the White House.
Isobel Murray said that Ireland is a small country with a unique level of access through St Patrick's Day, and if Mr Kenny does not show up, there are other countries who would step in and claim that time for their own.
She added that engaging does not necessarily mean endorsing.
The office is bigger than one taoiseach and one president, she said, and the ties that have been carefully fostered between both countries over a long period of time are important, and will endure into the future.
"It would be easy to be forgotten and, I think, it's not representing Irish interests well to step away from the opportunity."
Ms Murray, who is a lawyer, pointed out that concerns over preclearance at Irish airports were legitimate issues that needed to be raised.
However, she pointed out that "you have to be at the table to have the discussion".
Minister for Foreign Affairs Charlie Flanagan will address the Irish Network AGM at the Irish Embassy in Washington tonight.
We need your consent to load this rte-player contentWe use rte-player to manage extra content that can set cookies on your device and collect data about your activity. Please review their details and accept them to load the content.Manage Preferences