Taoiseach Enda Kenny has said Fine Gael will not enter into coalition government with Sinn Féin.
In a statement issued today, Mr Kenny said: "The Fine Gael Party position is, has been and will remain, not to enter into coalition government with Sinn Fèin.
"As I have stated many times previously I don't believe the parties to be in anyway compatible, in particular on economic issues where Sinn Féin policy would lead to massive job losses and seriously undermine business and investment."
He said his focus, and that of the Government, is to manage the "nation's affairs in the interests of its citizens."
"We have immediate challenges that must be dealt with, including Brexit and we will meet those challenges head on as we have done successfully many times before," Mr Kenny said.
This afternoon, Sinn Féin leader Gerry Adams said there was no possibility of his party "propping up the type of policies" for which Mr Kenny was responsible.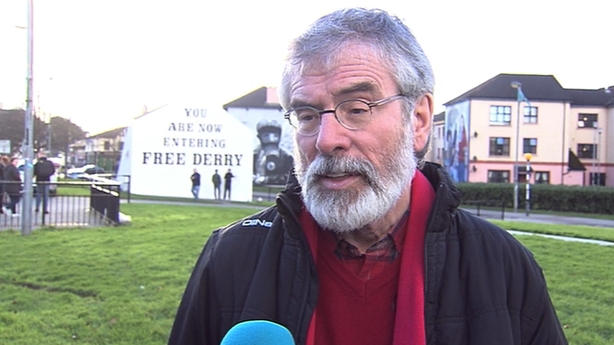 He said that whatever is happening in Fine Gael was a matter for that party but they needed to calm down.
Mr Adams said that bolstering the right wing, regressive policies of Fine Gael was now the role of Fianna Fáil.
Speaking to RTÉ News, he said: "This partnership of Enda Kenny and Micheal Martin has delivered the highest levels of homelessness in the history of the State; new horror stories emerge out of the health system on a daily basis and we have a Government that is not only wholly unprepared for Brexit but has no idea how to prepare.
"The Sinn Féin Ard Fheis determines our party policy on coalition. Of course, we want to be in government but not for the sake of it, or for having republican bums on cabinet seats. We want to be in government to effect real change in people's lives."
Earlier this week, Mr Kenny appeared to leave the door open to a Fine Gael/Sinn Féin government at some point in the future.
There was an overwhelmingly negative reaction in Fine Gael to the possibility of sharing power with Sinn Féin and it raised questions again about the Taoiseach's leadership.
Earlier today, Minister for Jobs, Enterprise & Innovation Mary Mitchell O'Connor said there was no way Fine Gael would ever enter into coalition with Sinn Féin.
Speaking on RTÉ's Marian Finucane Show, she said: "Sinn Féin have a lot of questions to answer, politically, what they have done in the past. And for me looking at it from inside the ministry for jobs, enterprise and innovation, but especially enterprise, I do not believe that their policies on finance are coherent.
"We couldn't work with them", she said.
Later speaking on RTÉ's Saturday with Claire Byrne, Minister for Arts, Heritage, Regional, Rural and Gaeltacht Affairs Heather Humphreys, said it was an understatement to say it was premature to be talking about a Fine Gael coalition with Sinn Féin.
Mr Kenny will hope his clear statement will put a stop to questions about his leadership.
REDC poll shows increase in support for Fianna Fáil
Support for Fianna Fáil has increased according to the latest Sunday Business Post/REDC opinion poll. However there has been a small drop in support for Fine Gael and the Independent Alliance.
Fianna Fáil is up three points to stand at 27% in this survey compared to last month.
Support for Fine Gael is down one point to 24%. The Independent Alliance, also dropped a point to stand at 3%.
Sinn Féin has dropped two points to stand at 14%.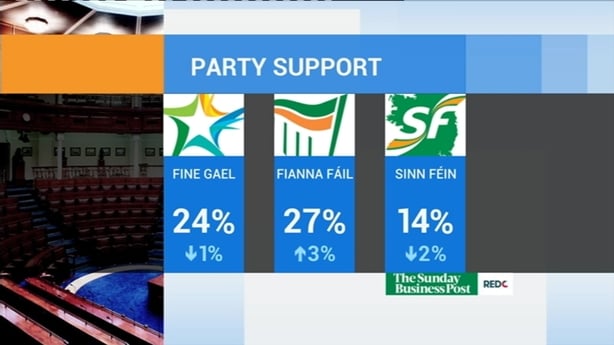 Non-aligned independents are also on 14%, a two point rise.
Labour are unchanged at 5% but the AAA/PBP are at 4% support, a one point drop.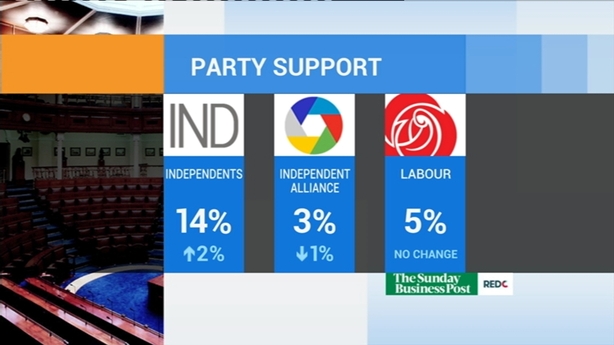 The Green Party and the Social Democrats are both on 4% while support for Renua is gauged at 1%.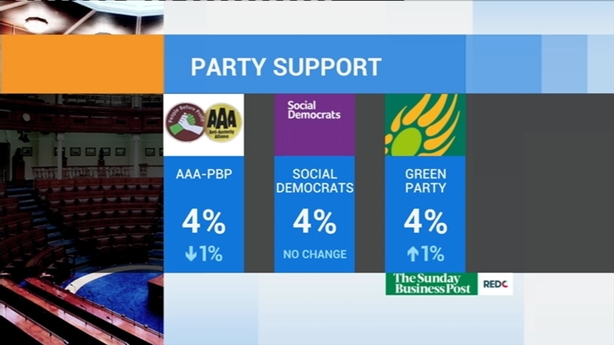 The margin of error here is 3%.