Gardaí have discovered almost €500,000 in cash and bank accounts that they believe is connected to the Kinahan crime cartel.
The discovery is part of the investigation that resulted in the seizure of firearms and ammunition at a warehouse in west Dublin yesterday.
Three men are still being questioned at various garda stations in connection with the investigation.
Gardaí believe that one of the men being held is one of the Kinahan gang's key directors of criminal operations in Ireland.
A fourth man has been released and will appear in court on a separate matter.
The gang is involved in an ongoing feud with the Hutch organised crime group, which has led to the murders of at least ten people.
Searches and forensic examinations are continuing today at a warehouse in an industrial estate in west Dublin and at houses in Dublin and Kildare as part of the ongoing investigation.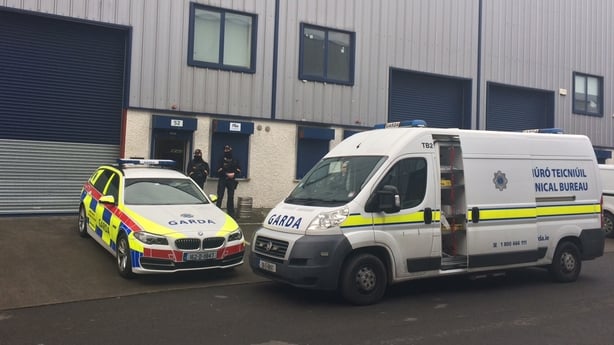 Officers from the drugs and organised crime bureau have so far seized over €300,000 in cash and identified another €150,000 in various accounts, which they believe to be the proceeds of crime.
The cash was hidden in homes and attics.
Forensic examinations are continuing for fingerprints and DNA on 15 firearms and 1,400 rounds of ammunition seized at the warehouse in the Greenogue Business Park in Rathcoole.
The weapons include nine revolvers, four semi-automatic pistols, a submachine gun and an assault rifle