A taskforce has made a series of recommendations to improve broadband access and mobile phone coverage ahead of the rollout of the National Broadband Plan next year.
The final report of the Mobile Phone and Broadband Taskforce was presented to Cabinet today by Ministers Denis Naughten and Heather Humphreys, and was approved for publication.
Twenty recommendations will be implemented immediately.
They include the appointment of a broadband officer in every local authority across the country who will act as a single point of contact for telecommunications operators.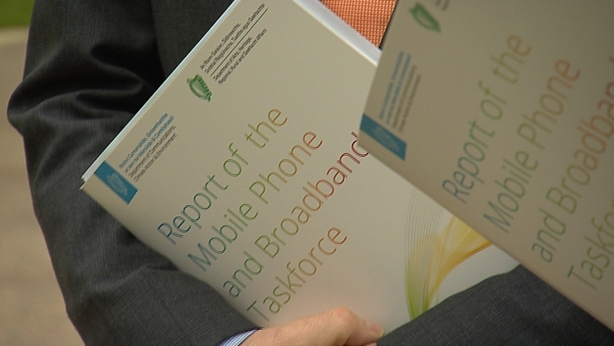 Twenty-four local authorities have already appointed someone to the role. The appointments are being funded by the Department of Arts, Heritage, Regional, Rural and Gaeltacht Affairs.
The taskforce also recommends that the requirement under planning legislation for the payment of development contributions for telecommunications infrastructure should end in every local authority area from early 2017.
Twenty-six local authorities have already stopped applying these charges.
ComReg will generate and publish online a national coverage map, which will help consumers choose the network provider that best meets their needs for where they work and live.
The map is expected to be published in 2018.
ComReg will also develop a licensing scheme allowing for the use of external mobile phone repeaters. This will allow householders and businesses to boost the signals into their premises, through the use of repeaters on the building.
"At the moment there is no licensing regime for repeaters," Mr Naughten said.
"Some people have them, some people don't, and that can have an impact on other services that people are availing of, or that their neighbours are availing of.
"It means individuals will get better coverage than they have been getting up until now, but it will not impact on their neighbour down the road who may end up with a poor service as a result."
The minister said, through the recommendations of the taskforce, he wants to see everyone have a basic level of internet service but also improve the quality of service pending the rollout of the broadband plan.
He said the plan will bring "in most cases, fibre to the door which will give people potentially 1000 megabits per second. That's going to dramatically transform Ireland, and particularly rural Ireland."