A Medical Council fitness to practise inquiry has begun into the care of an elderly woman, who died from cervical cancer in 2011.
Dr Mukhtar El Siddig Awadalla, was a locum consultant in obstetrics and gynaecology at the Midland Regional Hospital Mullingar and is facing four allegations of poor professional performance.
The events relate to the period March to May 2010.
Mary Hughes from Garvagh, Ballinalee, Co Longford was aged 78 when she attended her GP complaining of post-menopausal bleeding.
He referred her to Mullingar Hospital and she first attended there on 1 April 2008.
She was discharged after two days, following a diagnosis of fibroids.
Her next admission was in October 2008 when she was complaining of bleeding.
Ms Hughes was admitted again to Mullingar in late 2009 and in December 2009.
A scan was conducted on 9 February 2010.
It is alleged that around 9 March 2010, when Ms Hughes attended the hospital outpatient clinic, Dr Awadalla failed to undertake further investigations of the lesion identified by ultrasound in the patient's cervix.
This is the first time Ms Hughes was seen by Dr Awadalla.
It is alleged Dr Awadalla did not arrange a hysteroscopy to check the uterus in a timely manner.
That check did not take place until May.
It is further alleged that around 14 May, Dr Awadalla failed to visualise, or pay sufficient attention, when examining the endocervical canal and failed to take a biopsy.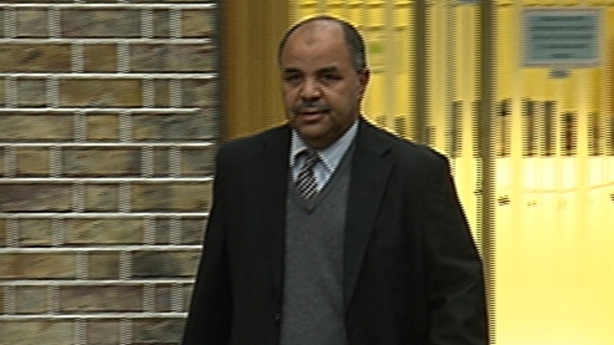 It is also alleged he failed to maintain adequate clinical notes regarding the procedure.
The inquiry has heard that Ms Hughes was admitted to the hospital on several occasions, arising from her post-menopausal bleeding and pain.
In October 2010 she was referred to Mullingar Hospital after passing clots and was admitted.
She was diagnosed with cervical cancer in October 2010 and died on 20 May 2011.
She was 81 years old.
Dr Awadalla is attending the inquiry but is not legally represented.
He qualified in Sudan in 1987 and works there at present.
He came to Ireland in 1997 and worked previously as a senior house officer at Letterkenny General and Our Lady of Lourdes Hospital in Drogheda.
He worked as a locum consultant obstetrician and gynaecologist in Ireland between 2007-2012, including at Mullingar.
The complaint to the Council was made in April 2013 by Ms Hughes' son Kevin.
Longford GP, Dr Kevin Flanagan first referred Ms Hughes to Mullingar in April 2008.
He told the inquiry that after her attendance at the outpatient clinic at Mullingar in March 2010, he was never provided with a report by the hospital.
With no explanation for her medical difficulties, he said he was concerned that it may be due to a fixation she had.
She was referred for psychiatric assessment but it showed nothing significant.
Ms Hughes was admitted to Mullingar for the last time on 17 October 2010.
Specimens were sent for checking and she was diagnosed with cancer.
A report was sent to her GP.
Dr Flanagan said he was probably surprised at the cancer findings.
The inquiry has been adjourned until tomorrow.
We need your consent to load this rte-player contentWe use rte-player to manage extra content that can set cookies on your device and collect data about your activity. Please review their details and accept them to load the content.Manage Preferences