The number of sexual offences and homicides increased in the third quarter of 2016, according to the Central Statistics Office.
There were 152 more recorded sexual offences, an increase of 6.6% compared with the previous period.
There were 61 homicide offences, one more than in 2015, representing a 1.7% increase.
The CSO report also found the largest recorded decrease was in burglary and related offences, down 31.2% or 8,857 fewer incidents.
There were 11,343 fewer incidents of theft and related offences, a 14.6% decrease on the previous year.
Weapons and explosives offences fell by 12.5%, or 301 fewer recorded offences.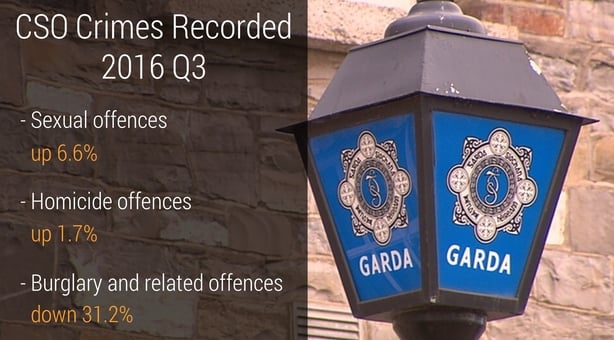 The CSO compiles the recorded crime figures using the Garda PULSE data.
Last September, a review on the quality of that data questioned its reliability.
The CSO advises that the recorded crime figures should be interpreted taking those findings into account.
Over a five-year period there has been a 20% increase in the number of offences against Government, justice procedures and organisation of crime, an increase from 9,721 (Q3 2012) to 11,661 (Q3 2016).
The year-on-year increase was 7.4%, or 806 incidents.