New figures show there has been a 30% decrease in the number of gardaí assigned to drugs units around the country.
In 2008, there were 341 gardaí assigned to various divisional drugs units.
This year that figure had dropped to 237.
In some Garda divisions, such as Cavan/Monaghan, there are no gardaí specifically employed in drugs units.
The figures are contained in a parliamentary response to Sinn Féin Waterford TD David Cullinane.
Garda drugs units are mainly detectives and undercover gardaí assigned to deal with illicit drugs, movements and seizures.
The figures show that in 2008 there were 132 members of the drug squads in the six combined Dublin divisions, but currently there are only 99.
In Cork city, the numbers fell from 26 to 14; Wexford has dropped from 13 to six; the numbers fell by from 10 to three in Laois/Offaly, while Cavan/Monaghan had 11 gardai in the drugs squad eight years ago, but today there are none.
The Minister for Justice said she has no direct role in assigning gardaí to various roles as that is the job of the Garda Commissioner.
Frances Fitzgerald said all gardaí have a responsibility in preventing criminal activity, whether it be drugs or otherwise, and that the overall number of gardaí in the force will increase again next year.
In 2008 the total strength of An Garda Síochána (excluding civilian employees) was 15,355, but this had fallen to 12,816 by 2015.
Ms Fitzgerald in her response to Mr Cullinane said the Government has a plan in place to "achieve an overall Garda workforce of 21,000 personnel by 2021", to be comprised of 15,000 gardaí, 2,000 reserves and 4,000 civilians.
She added that funding has been provided for an additional 800 gardaí to be recruited next year.
We need your consent to load this rte-player contentWe use rte-player to manage extra content that can set cookies on your device and collect data about your activity. Please review their details and accept them to load the content.Manage Preferences

Number of gardaí assigned to drug units 2008-2018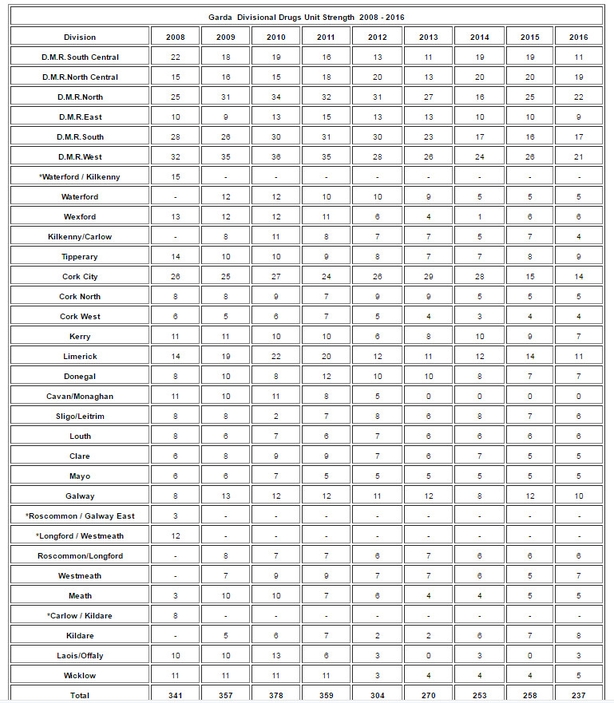 * These Garda Divisions were restructured in with in the period 2008-2016