The Scottish First Minister has said both Scotland and Ireland want to see the UK retain as close as possible a relationship.
Speaking after a meeting with Minister for Foreign Affairs Charlie Flanagan, Nicola Sturgeon said wanted to see the UK as a whole retain membership of the single market and she said she thought it would be something that would be welcomed in Ireland.
Ms Sturgeon is in Ireland for a two-day visit.
Mr Flanagan said the Government are anxious to ensure that the invisible border between north and south in Ireland is maintained
He said the invisible border is of huge consequence and he said it would be the Government's determination to ensure it is maintained.
Mr Flanagan added that he believed it was important that the invisibility of the border be fully recognised and maintained.
He also said the Government's priorities had been to protect the common travel area, and the issue of North-South relations with particular reference to the border and the Good Friday Agreement, ensuring that the letter and spirit of the agreement was not adversely affected by the result of the referendum.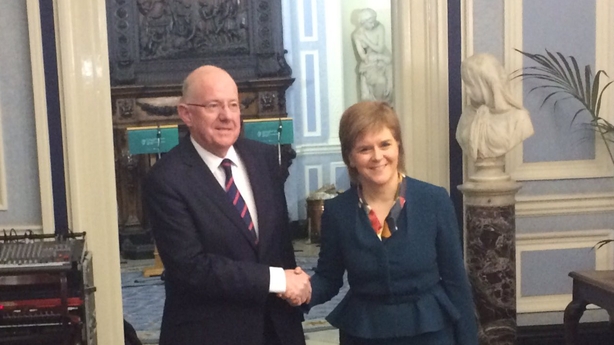 Ms Sturgeon also said everyone understands the paramount importance of protecting the peace process and the Good Friday Agreement.
She said the Scottish government was fully supportive of all efforts to make sure that the issues that arise regarding the border between north and south are resolved.
In relation to a timescale, she agreed with the view of Taoiseach Enda Kenny of what lies ahead.
At the weekend, Mr Kenny said the Brexit will not be complete within two years.
She said that it would be sensible for the UK to very explicitly make clear that it is seeking a transitional arrangement before the UK formally exits.
Bit she said that was a matter for the UK Prime Minister and government.
She said she wanted to explore if there were what she described as 'differential' options for Scotland.
She said that her view was that all options must be on the table.