Taoiseach Enda Kenny has said that as co-guarantors of the Good Friday Agreement, Ireland must see its conditions continue to be implemented post Brexit.
He was speaking at the 28th summit of the British Irish Council in Wales today which was attended by the Northern Secretary James Brokenshire as well as Northern Ireland's First and Deputy First Ministers and the Scottish First Minister.
Brexit was the main topic at the forum where free access to the single market and discussion of a possible hard border with Northern Ireland were among the key talking points.
The Taoiseach said that while he did not like the decision the British people made in June to leave the EU, he did respect it.
In relation to comments made by Mr Kenny about Brexit potentially bringing about a united Ireland, Mr Kenny said the primary goal was to maintain the Good Friday Agreement.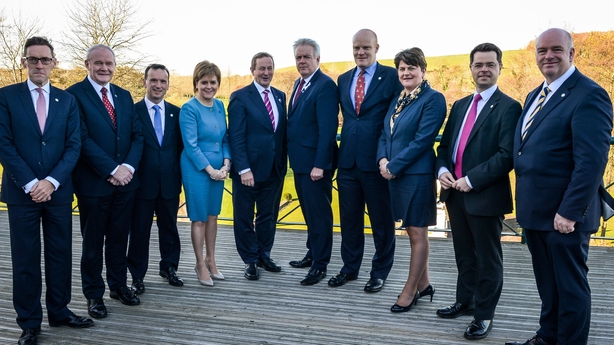 Northern Ireland Deputy First Minister Martin McGuinness criticised the fact that the British Prime Minister did not attend the event.
He said it would have been Theresa May's first opportunity to do so since becoming prime minister this summer, and he said he felt it was a missed opportunity on her behalf.
It was a sentiment with which the Scottish First Minister Nicola Sturgeon strongly agreed.
Mr McGuinness said he was not convinced that David Davies - the British Minister in charge of Exiting the EU - is not looking at some manifestation of a border in Northern Ireland.
He said he welcomes the chance to show Mr Davies that it is currently possible to drive from the centre of Belfast to the centre of Dublin without seeing any border.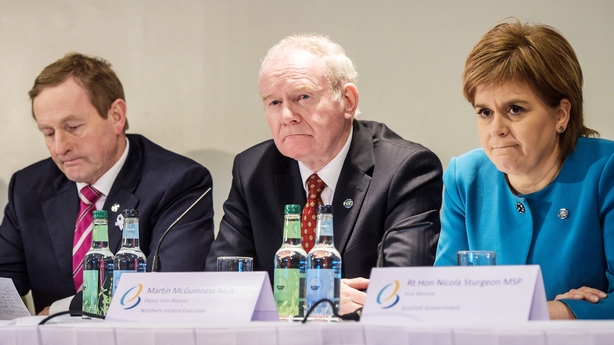 Mr Kenny met Ms Sturgeon for bilateral talks this afternoon following the meeting of the British Irish Council.
Mr Kenny and Ms Sturgeon discussed concerns which exist in Ireland and Scotland about the fallout from the decision of the UK electorate to leave the EU.
They also talked about the strong bilateral relations between Ireland and Scotland, with particular emphasis on economic, trade and investment links.
"Today's meeting was a very welcome and constructive opportunity to further strengthen the strong connections Scotland and Ireland have long enjoyed," Ms Sturgeon said.
"In the post-referendum landscape, it has become even more important that Scotland and Ireland work together to further strengthen our shared economic, cultural and social ties."
We need your consent to load this rte-player contentWe use rte-player to manage extra content that can set cookies on your device and collect data about your activity. Please review their details and accept them to load the content.Manage Preferences