Second-level students will be able to study computer science, including coding, as a Leaving Certificate subject in three years' time, according to the Minister for Education.
It is one of a number of recommendations made in a new report aimed at improving the teaching of the so-called STEM subjects of science, technology, engineering and maths in primary and second-level schools.
Minister Richard Bruton said today he had set 2019 as a target for the introduction of the new subject in schools.
The authors of the Government-commissioned report into the teaching of STEM subjects also say the quality of the education for these subjects is essential to Ireland's ambitions.
The report was commissioned three years ago and overseen by Dublin City University President Prof Brian MacCraith.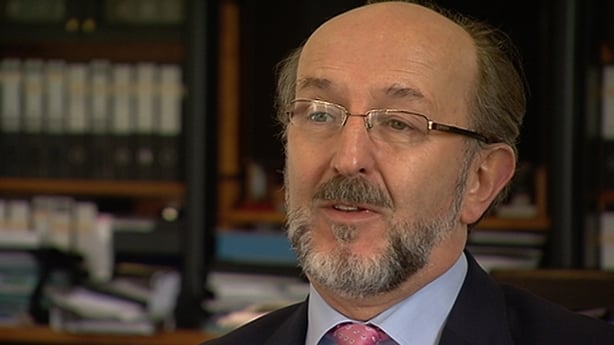 He said current STEM performance in schools in Ireland is not good enough and significant change is needed if Ireland wishes to sustain its economic ambitions.
The report makes almost 50 recommendations, 21 of which Minister for Education Richard Bruton has said he will prioritise.
They include ensuring that all teachers of STEM subjects have specific qualifications in their subjects.
While concrete data is not available, it is believed this could be a problem in the areas of physics and chemistry.
The report also recommends that a gender imbalance - which sees boys accounting for 76% of all Leaving Cert physics students - also be addressed and that computer science, including coding, be introduced as a Leaving Certificate subject.
 
Among the measures that Mr Bruton has said should be prioritised is the raising of the maths requirement for entry to primary teacher training courses. Currently a D3 is all that is required.
The report says such a level is not sufficient for the effective teaching of maths and raising the entry requirement will raise baseline knowledge, and also enhance the perception of the importance of the subject.
The report calls for revised curricula in STEM subjects, with a greater focus on inquiry-based learning.
It says ways should be found to recognise student participation in informal STEM events such as the BT Young Scientist and Technology Exhibition.
 
It also calls for a greater use of technology to enhance learning.
We need your consent to load this rte-player contentWe use rte-player to manage extra content that can set cookies on your device and collect data about your activity. Please review their details and accept them to load the content.Manage Preferences