The Guerin Report which resulted in the resignation of Alan Shatter as minister for justice in 2014 has been removed from the Government website.
Taoiseach Enda Kenny earlier said the decision to remove the report was made after he spoke to the Attorney General this morning.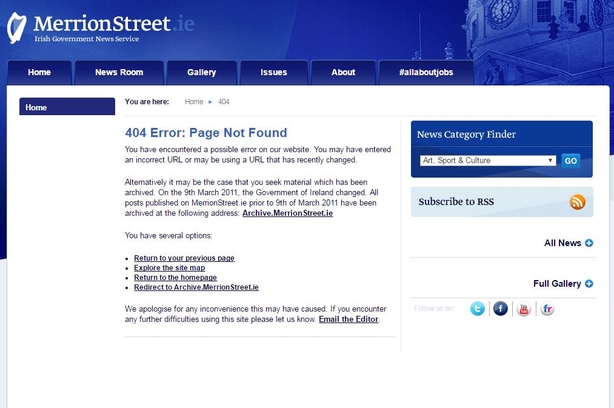 Lawyers for Mr Shatter yesterday asked the Court of Appeal to order senior counsel Seán Guerin to delete findings in his report examining how a garda whistleblower's complaints were dealt with.
They also want him to hand a corrected copy to the Government. Lawyers for Mr Guerin said the report was no longer under his control.
The application comes after the court ruled earlier this month that Mr Guerin made "highly critical" findings about Mr Shatter in breach of his constitutional rights.
Mr Shatter, who failed to win a seat in February's General Election, said the report had caused him to resign from office in May 2014 and his good name and reputation had been destroyed.
The subsequent report by the Commission of Inquiry chaired by former High Court judge Kevin O'Higgins had found Mr Shatter took allegations of garda whistleblowers very seriously.
In a statement tonight, Mr Shatter said he welcomed the fact that the report was removed and repeated his call for the Dáil record to be corrected in respect of statements made after the publication of the Guerin report.
He said it should not have been necessary to take on the "entire political establishment" to get to this point.
Nor should I have been made a political pariah by those in leadership positions in Fine Gael.
"While welcoming its removal, I believe such action should have been taken long ago and certainly no later than upon receipt by the Taoiseach of the O'Higgins Report.
"The Taoiseach has, to date, declined to acknowledge, either in the Dáil Chamber or elsewhere, that Judge O'Higgins' conclusions contradicted those of Mr Guerin. 
"I now ask that he do so.
"The Taoiseach, the Minister for Justice, opposition leaders and independent deputies welcomed the Guerin report and some welcomed his harsh criticism of me and placed it on the Dáil record. 
"I am now asking that the Dáil record be corrected by them.
The Guerin Report was laid by the Taoiseach before both Houses of the Oireachtas. I am asking the Taoiseach to take the steps required for it to be withdrawn."