The UN Security Council is set to approve a one-year extension of an international inquiry charged with laying blame for chemical weapons attacks in Syria, diplomats said, paving the way for a showdown over how to punish those responsible.
Russia has said it wants the inquiry to be broadened to look more at the "terrorist chemical threat" within the region and the draft resolution to renew the mandate includes language to reflect that request, diplomats said.
The inquiry by the United Nations and the Organization for the Prohibition of Chemical Weapons, set up by the council a year ago, has already found that Syrian government forces were responsible for three chlorine gas attacks and that so-called Islamic State militants had used mustard gas.
Syria's government has denied its forces had used chemical weapons during the country's nearly six-year-old civil war.
France, Britain, the United States and other council members have said that after the renewal of the inquiry, they hope to start negotiations on a draft resolution to punish those blamed for the attacks, likely with UN sanctions.
However Russia, an ally of Syria's President Bashar al-Assad, has said the inquiry's findings cannot be used to take action at the UN Security Council and that the Syrian government should investigate the accusations.
Last week the OCPW's executive body voted to condemn the use of banned toxic agents by the Syrian government and IS militants.
Chlorine's use as a weapon is prohibited under the Chemical Weapons Convention, which Syria joined in 2013.
If inhaled, chlorine gas turns to hydrochloric acid in the lungs and can kill by burning lungs and drowning victims in the resulting body fluids.
Syria agreed to destroy its chemical weapons in 2013 under a deal brokered by Moscow and Washington.
The Security Council backed that deal with a resolution that said in the event of non-compliance, "including unauthorized transfer of chemical weapons, or any use of chemical weapons by anyone" in Syria, it would impose measures under Chapter 7 of the UN Charter.
Chapter 7 deals with sanctions and authorization of military force by the Security Council.
The body would need to adopt another resolution to impose targeted sanctions - a travel ban and asset freeze - on people or entities linked to the attacks.
WHO condemns air strikes on hospitals in Syria
Meanwhile, the World Health Organization has condemned a wave of attacks on hospitals in Syria, while Russia has said its air strikes have killed at least 30 jihadists in rebel-held Idlib province.
Air strikes pounded neighbourhoods around a children's hospital and a blood bank in rebel-held eastern Aleppo yesterday in a second day of renewed bombing that has killed at least 32 people, a war monitor, medics and emergency workers said.
The air raids formed part of a wider military escalation by the Syrian government and allies including Russia.
Russian warplanes took-off from the Admiral Kuznetsov aircraft carrier that arrived off Syria last week.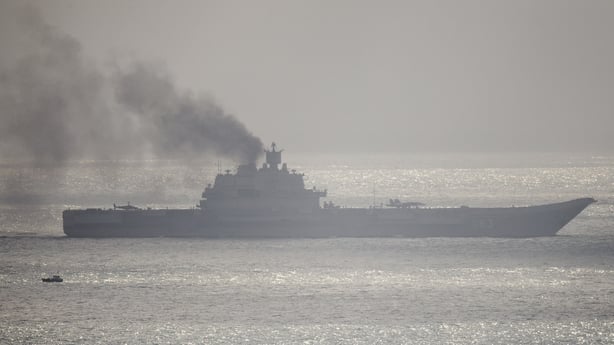 The World Health Organization has said there has been heavy attacks on a number of hospitals in Aleppo and Idlib provinces since Sunday, severely reducing access to health services for people in northern Syria.
"It is shocking that healthcare facilities continue to be attacked in Syria," WHO spokesman Tarik Jasarevic said.
"Only this year there were 126 attacks on health facilities and health workers recorded by the World Health Organization and partners. We call on all parties to stop targeting health workers and hospitals because this is outrageous, and this deprives (the) civilian population from access to basic health services," he added.
Both the Syrian government and Russia deny targeting hospitals.
In a statement, Russian ministry spokesman Igor Konachenkov said those killed in airstrikes since Tuesday were fighters with the Fateh al-Sham Front.
"According to information from different intelligence sources, at least 30 terrorists were killed," he said, indicating that one of them was a jihadist leader charged with "preparing and carrying out a new offensive in Aleppo".
Idlib province is mostly controlled by a powerful rebel alliance known as the Army of Conquest, which groups Islamist factions with jihadists of the Fateh al-Sham Front, formerly Al-Qaeda's Syrian affiliate.
The deadly war in Syria has killed more than 300,000 people since it started in March 2011 with a wave of anti-government protests.
Meanwhile, the Russia Ambassador to Ireland has told an Oireachtas Committee that is country is doing all it can to keep humanitarian routes into Aleppo open.
Maxim Peshkov said Russia believes that only a political solution can solve the Syrian crisis.
He denied that Russian aircraft are bombing schools or hospitals in the besieged city, describing such claims as a "complete lie".
He said that Russian military forces have been in Syria for a year and have managed to sign nearly 900 local peace agreements.