A leading member of the Association of Catholic Priests has said it would be dangerous for diocesan clergy in Ireland to ignore the depth of depression and despair in their ranks.
Fr Brendan Hoban also criticised a small number of bishops for bullying priests and warned of an increasing number of suicides among the clergy.
Speaking at the ACP's annual general meeting in Athlone, he further criticised the apparently official policy of bishops of automatically reporting anonymous accusations of clerical abuse to An Garda Síochána.
He said this practice would be unconscionable and much resisted if applied to teachers, lawyers, gardaí or any other professional group.
Aged 68 and based in Ballina, Co Mayo, Fr Hoban has reached what he says is approximately the average age of diocesan priests in Ireland.
In the past four decades very many parish priests have lost the assistance of curates who have become an endangered species, he said. He said no parish priests in his own diocese employ live-in housekeepers.
Statistics indicate that most diocesan priests may well die on their own, he continued.
In contrast to 50 years ago "there are no vocations to dioceses, congregations (are) melting away …, collections (are) declining … and morale (is) at an all-time low."
He said they are often pitied, patronised, reviled, insulted, disrespected, ignored and resented.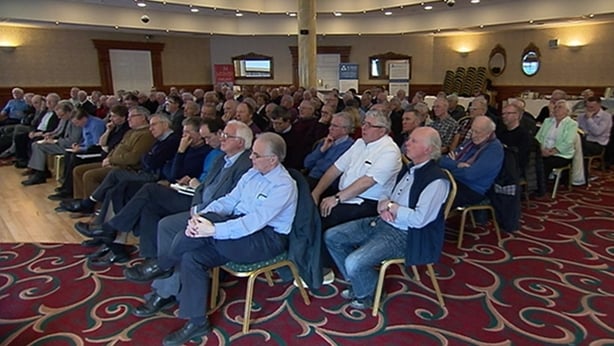 He said that in some dioceses, the level of distrust between priests and bishops has generated an increasingly obvious build-up of resentment and anger.
He added that some - but not many - bishops are bullying priests who do not have the confidence to face them down because of the level of control bishops exercise over their priests' lives.
In his address, Fr Hoban said that recently a priest who was retiring was asked to vacate his house with no prospect of alternative accommodation being provided.
He described this as "an appalling attitude" which "should be named and shamed as scandalous if a bishop, taking advantage of a vulnerable priest, can dictate terms and conditions that infringe the individual rights of priests to equity and justice".
He added that it is unacceptable that some priests are given preference because of their perceived loyalty to a bishop.
Diocesan priests' distrust in the Church leadership is exacerbated by the policies being pursued by the Papal Nuncio Archbishop Charles Brown in ignoring the traditions of dioceses, the preferences of priests and the rights of people to what Fr Hoban described as the present mock consultation about the appointment of bishops.
He added that frustration at the unhappy and sometimes bizarre choice of bishops is adding unnecessarily to the burden of priests.
We need your consent to load this rte-player contentWe use rte-player to manage extra content that can set cookies on your device and collect data about your activity. Please review their details and accept them to load the content.Manage Preferences

He said some bishops were doing the same by unjustly manipulating the commitment to priesthood of elderly priests in an effort to persuade them to postpone their retirement beyond 75.
He said diocesan clergy often have few close friends and the circle is diminishing with age and that a growing fearfulness and anxiety, born out of isolation, can mark their later years, creating a new vulnerability and nervousness in their lives.
He added that there is "a growing disillusionment among priests in their 50s and 60s and a consequent drift out of priesthood, not because of celibacy but in search of companionship and what might be more generally called 'normality'".
He said he does not doubt that the Catholic Church will survive in Ireland and adapt to changed circumstances.
But he asked how the last priests in this country can survive the final years of their lives with comfort, esteem and affection.
He warned that their ever-increasing workload morphs them into "sacrament-dispensing machines" and that they "find pastoral work less and less satisfying with progressively little or no engagement with their parishioners".
He said they are also struggling with issues beyond their training and probably their competence, citing the example of the quandary of how to minister to parents of same-sex couples who may be upset or worried or confused.