The Taoiseach and Northern Ireland's First Minister have said they are fully committed to working together on areas of mutual interest as the UK prepares to leave the European Union.
Enda Kenny and Arlene Foster held talks at Government Buildings in advance of next Friday's North-South ministerial meeting in Armagh.
Mr Kenny described this evening's discussions as "businesslike".
He said after Brexit he would like to see the continuation of an invisible border and progress being made by both economies.
We need your consent to load this rte-player contentWe use rte-player to manage extra content that can set cookies on your device and collect data about your activity. Please review their details and accept them to load the content.Manage Preferences
Mr Kenny said he would continue "the great level of cross-border co-operation" on areas like education, infrastructure, health, business and many other areas.
Ms Foster described the relationship between Dublin and Belfast as "strong and mature" and one that will develop even more in the future.
She said both leaders wanted people to be able to move across the border and that was one of the issues the Northern Ireland Executive had raised in a recent letter to British Prime Minister Theresa May.
Ms Foster denied that the relationship between her and the Taoiseach had been frosty in recent times over Brexit.
Ms Foster will continue to snub an all-island Brexit forum arranged by Mr Kenny, and which first met earlier this month, but she suggested a compromise had been reached with increased cross-border ministerial meetings.
"As the Taoiseach said, if we need to have more regular meetings of the North South Ministerial Council, then we will have more regular meetings," she said.
The meeting lasted for around an hour and 20 minutes.
Asked if they talked about seeking a special EU status for Northern Ireland after Brexit, she said: "We discussed the history and geography of Northern Ireland and the fact that the EU have assisted us in the past in relation to that history and geography and we will be talking about it over the coming months, as to how we can build on that past relationship and what that means for the future.
"But the UK as a whole voted to leave the EU, we will leave the EU as a whole but that doesn't take away from the fact that we have a special history and geography here."
On plans for Scotland's First Minster Nicola Sturgeon to address the Dáil next week, Ms Foster said she would "definitely consider" doing the same if asked.
Mr Kenny said the pair found a lot of common ground and agreed to open continued lines of communication.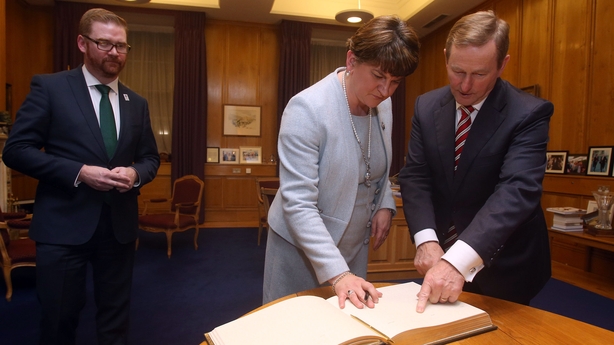 Earlier, speaking ahead of this evening's meeting, Democratic Ulster Party MP Gregory Campbell said attempts had been made to try to ensure Northern Ireland-bound jobs "went to Dublin".
Speaking on RTÉ's Drivetime, the Westminster MP said a number of companies were involved and ground rules need to be established and adhered to.
"Arlene is going to outline precisely for Enda Kenny what she knows happened in terms of inward investment that was being sought by Northern Ireland companies and by our ministers, and the information that we were getting at first hand - first-hand information about attempts to try and ensure that those Northern Ireland-bound jobs actually went to Dublin."
"There were a number of companies that were involved, but what needs to happen now is this need not turn into a diplomatic, or political crisis.
"We know what has happened; we are assured by the Taoiseach that he wants to ensure that in the future everyone knows exactly what the ground rules are and adhered to regarding how those jobs are brought to either Northern Ireland or the Republic."
UK government has 'no overall plan for Brexit'
The British government has no overall plan for Brexit due to divisions in cabinet, according to a leaked Cabinet Office memo seen by The Times newspaper.
The government may need another six months to decide on Brexit priorities due to splits within cabinet, The Times reports the memo as saying.
The memo, titled "Brexit Update", criticises Prime Minister Theresa May for her tendency of "drawing in decisions and details to settle the matter herself," The Times said.
According to the newspaper, the memo, written by a consultant working for the Cabinet Office, warns that many businesses may now "point a gun at the government's head" because of assurances given to car manufacturer Nissan about negating any financial impact from Brexit.
The memo also suggests the UK government does not have enough officials to implement Brexit quickly, while departments are developing individual plans resulting in "well over 500 projects".
"This is not a government report and we don't recognise the claims made in it," a spokesman for Ms May's office said.
"We are focused on getting on with the job of delivering Brexit and making a success of it."
Ms May has promised to trigger Article 50 of the Lisbon Treaty, which kicks off two years of talks to leave the EU, by the end of March but she has so far given little away about her plans for Britain's future relationship with the bloc.
Transport Secretary Chris Grayling has said he has no idea where report came from.
Speaking on BBC's Today radio programme, Mr Grayling said his own experience was very different.
He said he sits on the Brexit cabinet committee and has seen a process that is complex, but he said he does not see the nature of the challenge set out by the Times.
Separately, the head of the International Monetary Fund has said "significant uncertainty" remains over the UK's future relationship with the European Union.
Christine Lagarde refused to comment directly on whether she believed Brexit would damage the UK economy, saying: "We'll see how it goes. Certainly what we have at the moment, still, is significant uncertainty as to what the terms and conditions of the relationship will be between Europe and the United Kingdom.
"We've been partners for a long time and I hope it continues."
Ms Lagarde had rated the consequences of leaving the EU between "pretty bad to very, very bad" for the UK.
After the referendum result in June, she said: "We urge the authorities in the UK and Europe to work collaboratively to ensure a smooth transition to a new economic relationship between the UK and the EU, including by clarifying the procedures and broad objectives that will guide the process."