A man who used a steak knife to seriously assault his wife for almost four hours while their kids were at home has had his jail term increased following an appeal by prosecutors.
Pearse McAuley 50, with an address in Ballyconnell, Co Cavan, had pleaded guilty to seriously assaulting and falsely imprisoning his estranged wife Pauline Tully as well as other related offences committed at the home they previously shared in Kilnaleck, Co Cavan on Christmas Eve 2014.
He was sentenced at Cavan Circuit Criminal Court to 12 years imprisonment with the final four suspended by Judge John Aylmer on 2 December 2015.
The Court of Appeal found McAuley's eight-year jail term to be "unduly lenient" following an application for review of sentence by the Director of Public Prosecutions.
The three-judge court accordingly resentenced him to 12 years imprisonment with the final two suspended.
President of the Court of Appeal Mr Justice Seán Ryan, said the headline sentence of 12 years seemed "modest" in view of the "quite horrifying circumstances of his case" but the DPP had not taken issue with the headline sentence.
Rather, the DPP's barrister, Monica Lawlor BL, submitted that the effective sentence or jail term of eight years was too lenient.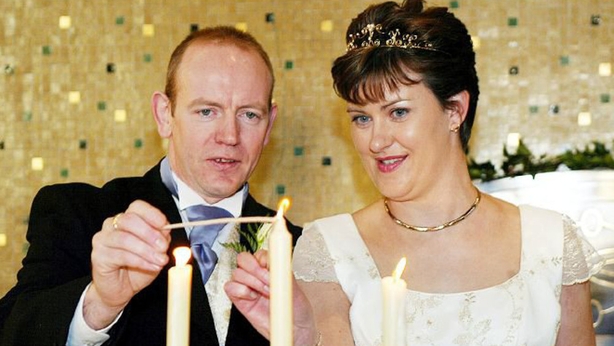 On Christmas Eve, McAuley arranged to come to the estranged couple's former home, where their sons, aged seven and four, were present along with Ms Tully.
Mr Justice Ryan said McAuley came "armed with a knife" and immediately when Ms Tully opened the door "he punched her".
He then subjected her to a serious assault for a number of hours, from 11am until approximately 3pm.
He had hit her blows with his hand, used a steak knife to inflict multiple wounds, left her with significant scarring and the area was covered in blood.
The fact that this happened in the presence of two young boys added an "extra dimension of brutality", the judge said.
Ms Tully managed to exit the house and found herself "cowering" in the car McAuley had driven there, the judge said.
He followed her out and when help arrived he was holding a rock above his head with which he was going to break into the car to inflict further injury, the judge said.
In those circumstances, McAuley may consider himself lucky that the Circuit Court considered 12 years as an appropriate starting point, Mr Justice Ryan said.
The Court of Appeal did not endorse the 12-year headline sentence as an appropriate one and did not want it "to be thought of as a precedent".
The question for the Court of Appeal, posed by the DPP, was whether the allowance of four years for mitigating factors was excessive. The answer was "yes".
It was excessive and an error in principle, Mr Justice Ryan said.
He said McAuley's guilty plea was of limited value.
This was a "clear case" and it might be said that McAuley was "caught red handed", Mr Justice Ryan said.
Furthermore, it was not legitimate to "simply add" expressions of remorse onto a plea of guilty in the calculation of mitigating circumstances.
Mr Justice Ryan, who sat with Mr Justice Alan Mahon and Mr Justice John Edwards, said all factors given their maximum weight did not warrant a one-third reduction in sentence.
Allowing for the maximum the court could think of as "proper and allowable", Mr Justice Ryan said the court would suspend the final two years instead of four.
It was worth mentioning, he said, that sentencing figures "given" by the old Court of Criminal Appeal for cases of serious assault - in a case known as 'Fitzgibbon' - were broad indicators.
They were not to be considered as a statutory framework so that the most serious cases of serious assault would attract 12 year sentences.
"That would be wrong" in circumstances where the Oireachtas had fixed the maximum sentence for serious assault at life imprisonment, the president said.
Ms Lawlor said an issue had arisen in respect of McAuley's time spent in custody since being sentenced.
His barrister, Paddy McGrath SC, said his side accepted that a mobile phone was found on McAuley in prison and that he had been punished in that regard.
Mr McGrath said McAuley wished to extend his apology to his ex-wife, to her family who had "always been good to him" and to his own family for the "shame" he had brought on them.
He was required to enter into a fresh good behaviour bond for the suspended period. When asked if he undertook to be so bound, he said "yes".
Mr McGrath said the sentencing judge was entitled to take account of McAuley's "genuine remorse".
A letter of apology, which had been rejected by Ms Tully, was sent to her solicitor when his guilty plea was entered, Mr McGrath said.
McAuley was not aware at that stage that the letter would be used in court, counsel said.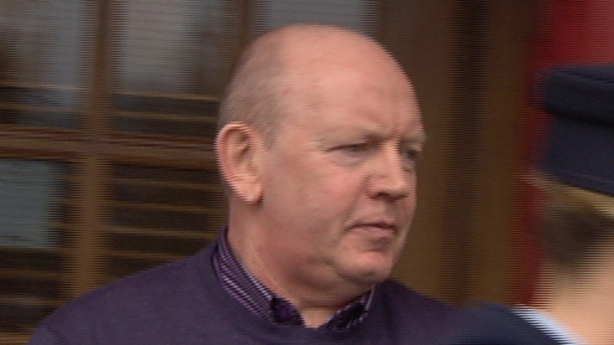 McAuley had told interviewing gardaí that he had been in many garda and PSNI stations in the past and had never said anything those times.
But Ms Tully meant a lot to him, he told the gardaí, and instead of saying nothing, he would talk this time and tell the truth.
Mr Justice Ryan remarked that McAuley went on to tell the gardaí in the interview that he was acting in "self defence" - the "very reverse of the truth", the judge remarked.
Mr McGrath said McAuley went on to make "partial admissions" or "limited admissions" in the interview.
McAuley indicated that Ms Tully was a person he had and retained a certain degree of affection for, counsel said.
Mr McGrath said McAuley's guilty plea was of particular benefit as there may have had to have been evidence from a "very young witness … I'm not sure the DPP were proposing to go down that route," counsel added.
Mr McGrath said the case did not sit into what is traditionally regarded as being "caught red-handed".
The substance of the case - the attack - primarily took place in the presence of two people with some evidence from the children.
A trial would have been very traumatic for all concerned, counsel said.