55 people are to lose their jobs at a manufacturing facility in Co Galway.
HID Global manufactures smart card technology for identity documents at its facility in An Tulach in Conamara.
The company says that some of the work being done there is to be transferred to a site Malaysia.
It says it will be offering a voluntary redundancy scheme to the workers affected by the move.
180 workers are currently employed at HID Global in An Tulach, which is a client company of Údarás na Gaeltachta.
Údarás says it is disappointed at the decision to lay off workers.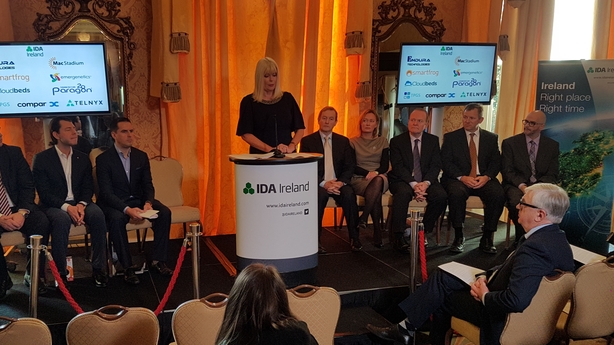 Meanwhile, 215 jobs are to be created in Dublin and Waterford at nine European and North American based companies.
The positions will be across a range of sectors, including software engineering, finance, sales, technology, customer support, operations and marketing.
The jobs were announced by Taoiseach Enda Kenny and Minister for Jobs Mary Mitchell-O'Connor at an event in Dublin.
The investments are supported by IDA Ireland.
Semi-conductor company Endura Technologies is set to create 40 new engineering jobs, which will bring its total research and development team to over 50 by the end of 2018.
Cloud company MacStadium also said it is setting up its first European data centre and international headquarters in Dublin which will create 35 technology jobs over the next three years.
35 new Dublin jobs are also being promised by Smartfrog, an "Internet of Things" start-up. The company said it picked Dublin for the new jobs due to its high-tech ecosystem, ease of access to English speaking markets and the availability of talent.
Meanwhile, Cloudbeds - which provides hospitality property management system software - announced plans to create about 20 new jobs over the next two years at its Dublin office. The new roles will focus customer support and European sales.
US-based Energenetics also said it would open a new EMEA headquarters in Dublin's IFSC to serve its growing international client base. The new facility will see the creation of 20 jobs over the next three years.
20 new jobs will also be forthcoming at Telnyx, a US-based next generation provider of wholesale real-time communications, as it opens a new office in Dublin. The Dublin office is the start-up's second branch, with its headquarters in Chicago.
US medical device company Paragon 28 intends to hire up to 15 workers over the next year in Ireland as it expands into the European and Middle East markets.
And international finance company TPGS will open a new office in Dublin, which will create 15 new jobs. It said it selected Dublin due to its reputation as a leading location for FDI and the availability of highly educated third level graduates.
Meanwhile in Waterford, Compar AG, is to establish an engineering development and sales centre, with the creation of 15 highly skilled jobs over the next few years. The company is a leader in specialised image processing and robotics.