Dressed in black, Argentine women took to the streets to protest the brutal rape and murder of a 16-year-old girl, the latest incident of gender violence to shock the country.
Warning: Graphic Content
The protesters marched in memory of Lucia Perez, a high school student who died on 8 October after drug dealers allegedly raped her and impaled her on a spike.
Two men known for selling drugs outside a school were detained on Sunday and charged with rape followed by homicide.
"If you touch one of us, we all react," said signs carried by many of the protesters, who staged an hour-long strike earlier.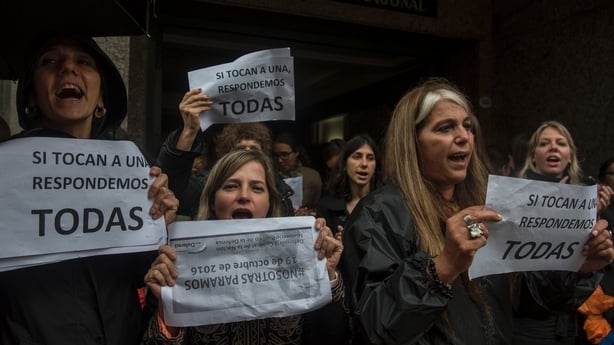 Recent polls show security has replaced inflation as the top concern for Argentinians, and Ms Perez's case has spurred particular outrage.
Prosecutor Maria Isabel Sanchez told reporters last week that Ms Perez was drugged with cocaine and had suffered "inhumane sexual aggression" that triggered cardiac arrest.
It was the latest in more than a year of mass marches to protest violence against women in Argentina, where according to government figures domestic violence kills one woman every 36 hours.
Last year in June, protests broke out nationwide over three killings: a kindergarten teacher whose estranged husband slit her throat in front of her class; a 14-year-old girl whose boyfriend allegedly beat her to death because she got pregnant; and a woman whose ex-boyfriend stabbed her to death in broad daylight at a Buenos Aires cafe.
"The case of Lucia Perez acted as a trigger to demand justice for all women who suffer sexist violence," said one protester in downtown Buenos Aires, Gabriela Spinelli.
Organisers said the goal was to condemn not only Ms Perez's killing, but a culture that values women less than men - which they said can be seen in statistics such as the unemployment and poverty rates.
An official estimate of the turnout was not immediately available.
Despite a rain storm that likely dented turnout in Buenos Aires, demonstrators managed to block off several avenues in the capital, as supporters applauded from office buildings.
In Spain, hundreds of women protested in solidarity in Madrid and Barcelona.
Demonstrations were also held in various cities across Latin America, including Mexico City.