Minister for Housing Simon Coveney has disputed claims that Fianna Fáil influenced the ratio between tax and spending in Budget 2017.
Mr Coveney said he had been listening to some Fianna Fáil TDs claiming credit for the change of emphasis.
"The idea that Fianna Fail has decided what the split between taxation and expenditure is nonsense, and I say that as someone who was involved in the negotiations," he said.
However, he added he was glad Fianna Fáil and Fine Gael had reached agreement on the Budget.
Mr Coveney also defended the Help to Buy scheme, saying first-time buyers should account for half of purchasers in a normal market, but this is not currently the case because developers were targeting other markets.
He said first-time buyers would continue to be locked out of the market if the Government did nothing, and developers now had to get on with building houses for the first-time buyer market.
Independent TD Danny Healy-Rae earlier said the housing crisis rolls on and the cause is supply.
He said that developers cannot build as they cannot access credit and the banks will not lend to them.
Mr Healy-Rae asked the Taoiseach to intervene with the banks so developers and contractors can access money.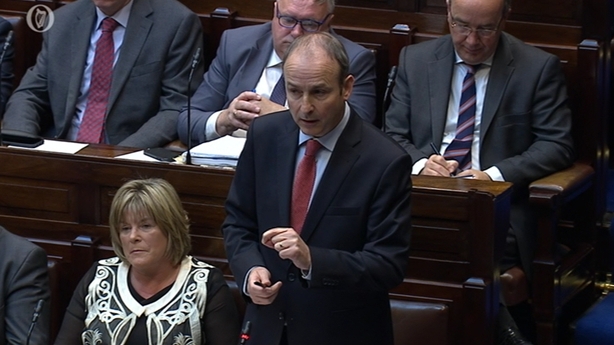 Fianna Fáil leader Micheál Martin earlier told Taoiseach Enda Kenny that one of the most disappointing aspects of Budget 2017 was the lack of any substantial response to the challenges of Brexit.
Speaking during Leaders' Questions in the Dáil, Mr Martin said that this is "extraordinary" as people were promised a Brexit-proofed budget.
The Government should be planning for a hard Brexit and not hoping for a soft one, he said.
He also accused the Government of a gamble, saying it is assuming that sterling will strengthen by over 6% next year.
The currency crisis is most real, he said, and asked if there should be contingency provision be put in place.
The Taoiseach said the situation is fluid until British Prime Minister Theresa May moves Article 50, formally triggering the Brexit process.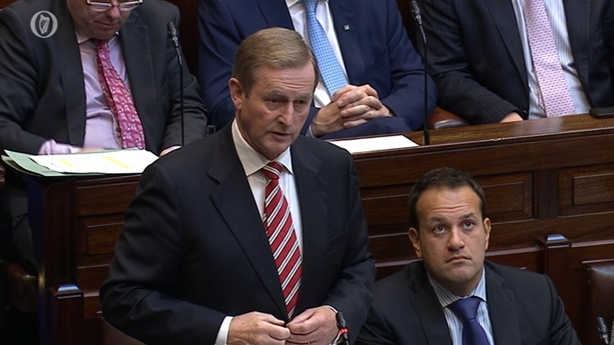 He said the Government is conscious of the currency fluctuations and that is why the Minister for Agriculture had put in place a €150m low interest facility for farmers.
In response to a question from Labour leader Brendan Howlin, Mr Kenny said the increase in social welfare payments will be made across the month of March.
He said details and dates will be revealed when the Social Welfare Bill is published in two weeks.
Meanwhile, Minister for Social Protection Leo Varadkar has said that he would have liked for social welfare increases to have come into effect on 1 January, but it was not possible.
Speaking on RTÉ's Drivetime, the minister said that Government partners supported him in social welfare increases and that he hoped they will vote for the Budget.
He said: "I do hope that everyone now claiming credit for the contents of the budget will actually now vote for it. As part of our confidence and supply arrangement, they essentially agree not to oppose it. Abstention is sufficient, but wouldn't it be strange to claim credit for loads of things and then abstain on the vote."
Mr Varadkar said that he had limited resources available to him and when it came to young job seekers, he decided to put the resources into encouraging them to take up education and to take up employment.
In the Dáil, AAA-PBP Deputy Ruth Coppinger queried how many families would benefit from the new childcare package announced yesterday.
She said very little was given back to low and middle income workers, and she was critical of the way the scheme only applies to Tusla-registered child centres.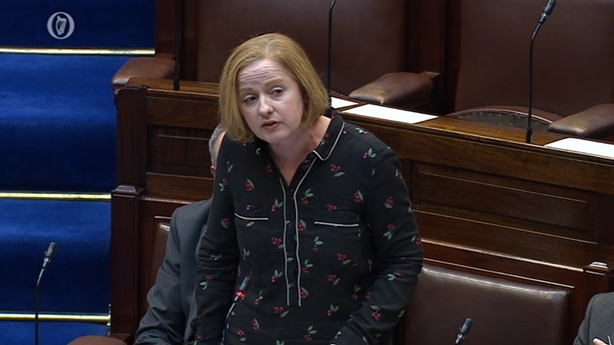 Shift workers and those on zero hours contracts with minders would not be able to benefit, she said.
The Taoiseach said the previous government prioritised the issue of children and that is why Tusla, the Child and Family Agency, was set up.
He said the Government is trying to bring together the many disjointed areas of childcare.
As the debate on Budget 2017 resumed in the Dáil this afternoon, Independent Alliance TD Shane Ross attacked Fianna Fáil leader Martin.
He said the alliance was proud to have had major input into what happened yesterday and said the Oireachtas and the public should know that the Independent Alliance were in late and intense negotiations with Fine Gael.
Mr Ross said the Independent Alliance did not think it appropriate that Mr Martin would tell the House that his party negotiated the cap on prescription charges.
Mr Ross said no one could deny the power that the leader of Fianna Fáil now holds; however he warned that before Mr Martin gets carried away with that power Fianna Fáil should remember the millions of euro Mr Martin spent in reviews and management consultant fees when he was minister for health.
Humphreys defends arts budget
Minister for Arts, Heritage, Regional, Rural and Gaeltacht Affairs Heather Humphreys has disputed claims that next year's arts budget has been reduced by 16%.
Speaking in the Dáil this evening, Ms Humphreys pointed out that €40m which was put towards her department last year was once-off funding for the 1916 Centenary programme.
She said the majority of the fund, €31m, went towards a series of capital projects and due to the fact they have been completed, the money has "not been repeated".
Ms Humphreys said core funding is up "right across the board".
Budget breaches will not lead to EU fines - FAC
The Chairman of the Fiscal Advisory Council has said financial breaches by the Government in Budget 2017 "aren't large enough in current projections to bring fines from the EU, but they still are breaches of the rules from this year and next."
Speaking on RTÉ's Morning Ireland, Professor John McHale said there are two rules which constrain Irish budgetary policy; one requires an improvement in the budget structural balance of 0.6% of GDP each year.
He said according to yesterday's Budget, this improvement will only be 0.3% of GDP for this year.
Prof McHale said the other rule is the expenditure benchmark which sets a limit on expenditure growth and he said "for 2017 the Government's own projections have them exceeding that €200 million."
He said there has been "some slippage" in the implementation of the budgetary framework.
Brian Dowling: Holding the centre
Sean Whelan: It's still about the debt
Tánaiste and Minister for Justice Frances Fitzgerald has said that Budget 2017 is a recognition that work has to be worthwhile and that only a strong economy, supporting people at work, can provide the public services that are needed.
Speaking on RTÉ's Morning Ireland, Ms Fitzgerald said that the package for first-time buyers will make a difference for those attempting to save a deposit, while also encouraging builders to build and therefore address the housing shortage.
Civilians will be recruited to assist gardaí by mid-2017, she added.
Sinn Féin deputy leader Mary Lou McDonald said the Budget was, in essence, a very political one and about Fine Gael and Fianna Fáil preserving the status quo.
Also speaking on RTÉ's Morning Ireland, she said that in her view it was a "party political budget".
She described it as being "like a patchwork quilt - a bit of a box ticking exercise".
Ms McDonald said she was glad to see the extension of the medical card to children in receipt of the domiciliary care allowance, saying this was very much a Sinn Féin initiative in the Dáil.
Independent TD Stephen Donnelly said Budget 2017 was a "political budget" that lacks ambition.
He described the €20,000 tax rebate for first-time buyers as "madness, wasteful and inequitable" and that the move will push up the price of property.
In addition, he said, the measure will make things worse for the "negative equity generation" which has been ignored since the start of the crisis.
---
Among the headline measures of Budget 2017 are:
- A new help-to-buy scheme for first-time house buyers struggling to get on the property ladder, giving a 5% rebate of up to €20,000 over four years on new houses.
- Further cuts to the three lowest rates of the Universal Social Charge, of 0.5%.
- 50 cent tax added to cigarettes, bringing major brands to more than €11 a packet.
- Freeze on the reduced tourism and hospitality VAT rate of 9%.
- A new sugar tax on soft drinks to be introduced alongside the UK in April 2018.
- A two-year extension to the home renovation tax-break scheme credited with kick-starting the construction industry.
Reaction to the Budget by Government, Sinn Féin, Independent Alliance and Independent representatives pic.twitter.com/bR9Tjo3VSv

— RTÉ News (@rtenews) October 12, 2016