The Central Criminal Court has heard that a defenceless young man was held up "like a rag doll" while he was severely beaten and kicked, then "thrown down steps" before he died.
Seven people - six men and a woman - have pleaded not guilty to the murder of 20-year-old Dale Creighton on 2 January 2014.
They have also denied a charge of violent disorder.
The Prosecution told the court that the attack was captured on CCTV and that all seven accused were responsible and acted together in support of each other.
Mr Creighton died in hospital after he was attacked at a footbridge in Tallaght.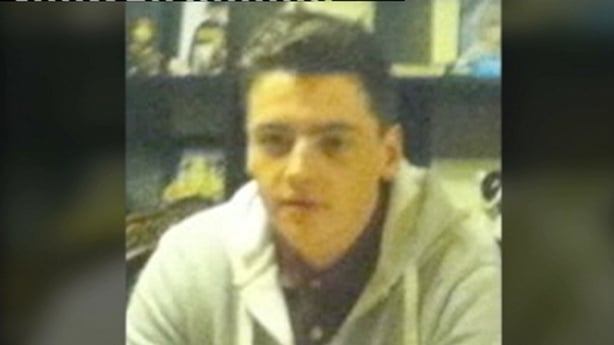 The prosecution said the events leading to the murder began at around 4am on New Year's Day in 2014 at West Park in Tallaght when a girl was heard shouting that her phone had been stolen and someone said "grab him!"
Mr Creighton was pursued by a number of people, including one of the accused 26-year-old James Reid of Glen Aoibhinn, Gorey, Co Wexford, and was caught at the footbridge over the Tallaght by-pass and attacked.
The area was covered by CCTV cameras.
Senior Counsel Sean Gillane told the jury that another accused, 28-year-old David Burke of Beechpark, Collinstown, Co Westmeath, arrived and Mr Creighton was held and hit "in a cowardly fashion," eight or nine times on the head.
He got to his feet but was pursued again and the court heard that Mr Burke and another accused 23-year-old Ross Callery of Gortlum Cottages, Brittas, Co Dublin, brought him to the steps of the footbridge.
The court heard that the three other accused - 23-year-old Aisling Burke of Beechpark, Collinstown, James Beresford, 23, of Castledermot, Co Kildare, and 26-year-old Graham Palmer of Park Avenue, Portarlington, Co Laois - then arrived and were joined by the seventh accused, Gerard Stevens, 27, with an address at Grosvenor Square, Rathmines, Dublin.
A member of the public called 999 and a Garda in Tallaght adjusted the CCTV camera to the south side of the footbridge and began recording.
The Garda became an eyewitness to what was described as a vicious, prolonged and sustained attack, which included kicks and stamps to Mr Creighton's head and body which occurred while he was on the ground unable to defend himself.
Mr Gillane said Mr Creighton was "struck while he was held up like a rag doll", dragged to the steps and thrown down them, before being picked up and brought back up."
The violence he said was "intense, concentrated and focused" and what caused it to end was not remorse but the arrival of gardaí.
He said the accused then ran off "leaving Dale Creighton figuratively and literally for dead . . .lying on his back with his legs dangling over the steps".
He died in Beaumont Hospital the following day.
The prosecution says the seven accused are all responsible and acted together in support of each other.
All seven deny two charges of murder and violent disorder.
The case is expected to last at least six weeks.