The Employment Law Association of Ireland has strongly criticised the operation of the new Workplace Relations Commission, which will be one year old on Saturday.
This follows an ELAI survey of 139 industrial relations and legal practitioners, including barristers, solicitors, trade union and employer representatives and HR consultants.
According to the survey, which was initially distributed to 350 practitioners, half the respondents believe the new system for resolving employment disputes between workers and employers is worse than the much criticised version which it replaced.
Three out of five respondents find the WRC system of in-camera adjudication hearings inconsistent, making it more difficult for them to advise clients on basic issues regarding the format of a hearing.
Half the respondents are dissatisfied with the consistency of rulings from Adjudication Officers, with just one in ten voicing satisfaction.
ELAI claims that there is an ad hoc approach to case management, inconsistencies with the adjudication process, difficulties with scheduling hearings and processing complaints as well as what it calls "haphazard" communication.
Those surveyed also voiced concern about a lack of resources for the newly-established Mediation Service.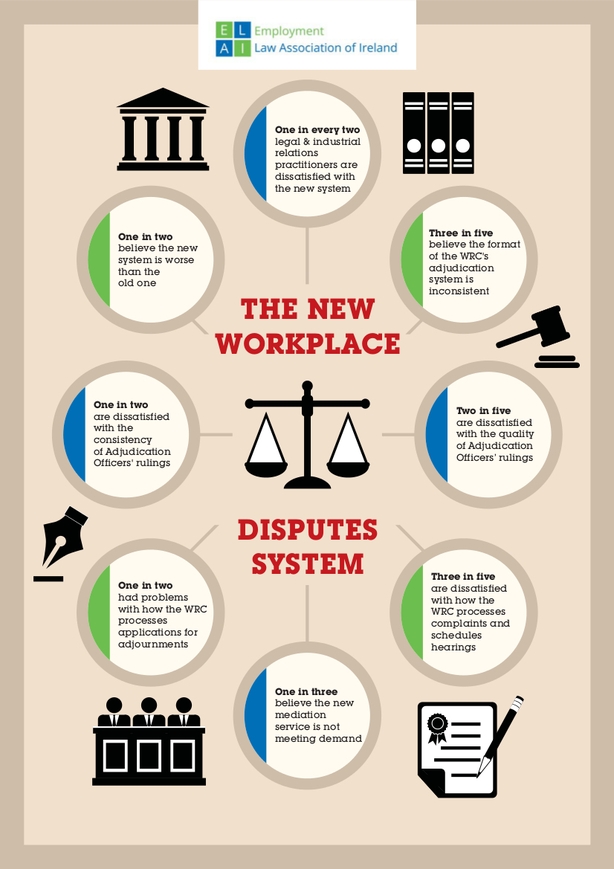 The report's author, Dublin Institute of Technology law lecturer Dr Brian Barry, said the highlighted difficulties were affecting workers and employers in disputes over employment rights issues such as unfair dismissals claims, workplace discrimination and maternity leave entitlements.
However, he said that the research would assist in identifying the steps required to address the problems.
ELAI Chair Colleen Cleary said the inconsistencies identified were going on "under the radar" and it would require additional investment to remedy them.
Recently appointed Director General of the WRC Oonagh Buckley acknowledged that a number of issues around processes at the organisation had been flagged in engagement with stakeholders.
She said the management team knew that improvements had to be made with some processes around adjudication hearings, and were intending to work very had to improve and streamline services delivered to users in the coming months.
She noted that the length of time from lodging a claim to receiving an adjudication had fallen from an average of three years to six months.
The full findings of the survey will be presented at a special conference in UCD tomorrow to mark the first anniversary of the new employment rights and dispute resolution structures.