Fianna Fáil leader Micheál Martin has said plans for a special 30% tax rate for returning graduates "beggared belief", given its discriminating nature.
Speaking during Leaders' Questions in the Dáil, Mr Martin said those who stayed would be paying 50% over the marginal rate. He added that clearly "builders need not apply".
Mr Martin asked Taoiseach Enda Kenny to confirm that this was not planned for the forthcoming Budget.
Mr Martin said funds needed to be given to the third-level and childcare sectors.
Mr Kenny said no decisions had been made about any such proposals and he wanted Budget 2017 to be as fair as possible. However, he did say that different financial treatment has been raised for certain workers, such as gardaí, and these were being dealt with.
He said the overall figures for spending and tax measures in the Budget had not changed and the idea of special tax rates had not been discussed at Cabinet.
However, Mr Martin said his question to the Taoiseach was whether he thought such a proposal was fair and he said Minister of Jobs, Enterprise and Innovation Mary Mitchell O'Connor clearly thought it was a fantastic idea.
Mr Martin said that "anyone who stayed in Ireland would be effectively punished" and he asked again if the Taoiseach thought it was unfair.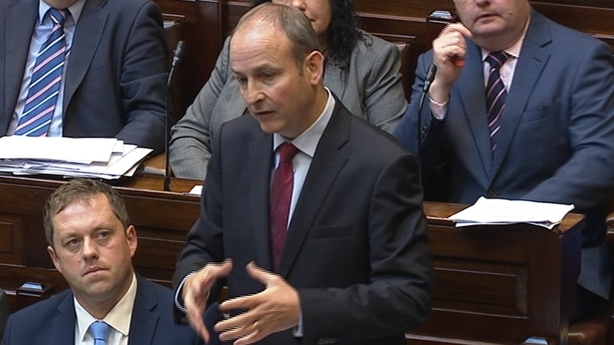 To which Mr Kenny replied: "Yes I do", to laughter in the chamber. The Taoiseach said if someone was returning from London on a special rate, that would be regarded as unfair.
He said the Government did not have the resources to deal with all the claims coming in and it is trying to be as fair as possible.
Fianna Fáil's Jim O'Callaghan welcomed the Taoiseach's acceptance that the tax proposals from Ms Mitchell O'Connor were "unfair".
Speaking on RTÉ's Leaders Questions, Mr O'Callaghan said there needed to be "less kite-flying and more coherence in Government".
We need your consent to load this rte-player contentWe use rte-player to manage extra content that can set cookies on your device and collect data about your activity. Please review their details and accept them to load the content.Manage Preferences
Zappone denies being kept in the dark on Budget
Minister for Children and Youth Affairs Katherine Zappone has said she was not being kept in the dark in Budget 2017 discussions for her Department.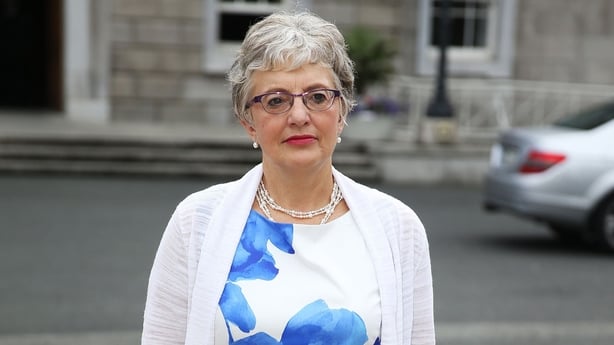 Responding to reports of Government and Fine Gael tensions on her Budget proposals to target childcare subsidies at lower income families, she said this would be the initial focus but the scheme would evolve to cover everyone.
She said an indicative joint income threshold of €47,500 was a net figure although she would not reveal the full-year cost of a scheme at that cut-off point and that entry point could well capture many middle-income earners.
She said the negotiations have been amicable, honest and firm and she has tried to be reasonable.
No decision on full Christmas bonus payment
Labour leader Brendan Howlin raised the full restoration of the social welfare Christmas bonus, asking if the full bonus would be paid this year.
Last year, 75% of the bonus was paid.
"All I can say is that no decision has been made about any of these", Mr Kenny said in response.
However, he said there was no evidence on the full bonus in the estimates for 2017, which Mr Howlin would be aware of.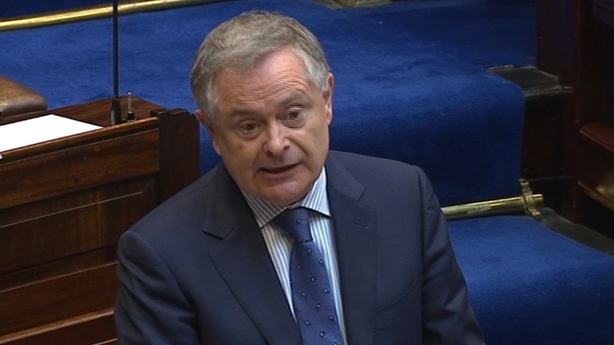 Mr Howlin said the Christmas bonus was always paid by way of supplementary estimate and he said the social insurance fund was in surplus, and it would be a decent thing to do to signal this would happen.
Mr Howlin said Minister for Public Expenditure Paschal Donohoe had said there would be no supplementary estimates.
Mr Howlin asked the Taoiseach if European rules would mean it would have to be accounted for this year.
It would cost €200m and an announcement would be made on all of these matters in the Budget, Mr Kenny said.
Disability funding raised by Adams
Sinn Féin leader Gerry Adams raised cuts to disability programmes mentioning one particular scheme, 'Walk Pier', which had its funding withdrawn.
Mr Adams said the project undertook fantastic work, fostering links between young people and employers and it would cost €300,000 annually over six departments, which made economic sense, supplying a path to employment.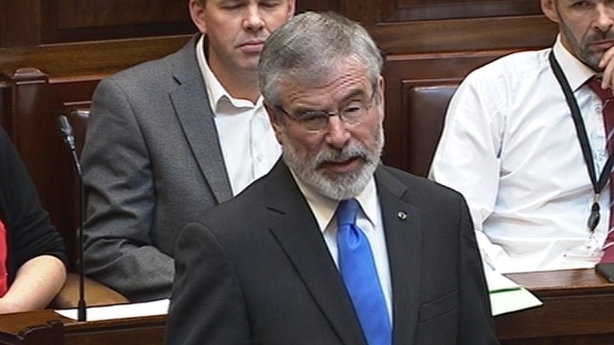 Mr Adams said a committee on disability activation schemes had only met twice and he asked what steps the Taoiseach was going to take in the Budget for the disability sector.
Mr Kenny said finance for disability schemes was being considered saying: "We no longer have European funding in this area".
He said an extra €31m was allocated to services and money was allocated to the 'Walk Pier' project and Minister Finian McGrath was not shy about voicing his concerns in this area.
Mr Adams said he met Mr McGrath yesterday and if the minister does not get the funding for this project, he should resign.
The Taoiseach said Mr McGrath has sought funding and was granted an extra €31m and he was quite sure he would look at the project Mr Adams was referring to.
Mr Kenny said the situation was outlined "in graphic form" by Mr McGrath and he said significant funds were being allocated to disability projects.