Warplanes bombed Aleppo with what residents described as unprecedented ferocity after the Russian-backed Syrian army declared an offensive to fully capture Syria's biggest city, killing off any hope of reviving a ceasefire.
The number of people killed in the bombardment of rebel-held eastern districts of Aleppo has hit 91, Hamza al-Khatib, the director of a hospital there, said.
Video images filmed by residents showed a young girl screaming as rescuers frantically dug her out of rubble, pulling her out alive.
Another showed rescuers digging out a toddler with their bare hands, shouting "God is Great" as they lifted him from the debris. The boy showed no signs of life as he was rushed off in a rescuer's arms.
The apparent collapse of the peacemaking attempts may mark a turning point in the five-year civil war, with the government and its Russian and Iranian allies now seemingly determined to crush the rebellion in its biggest urban stronghold.
"Can you hear it? The neighbourhood is getting hit right now by missiles. We can hear the planes right now," Mohammad Abu Rajab, a radiologist, said. "The planes are not leaving the sky, helicopters, barrel bombs, warplanes."
The Civil Defence rescue group that operates in opposition areas said at least 70 people had been killed and 40 buildings destroyed.
The Syrian Observatory for Human Rights monitoring body gave an initial death toll of 27.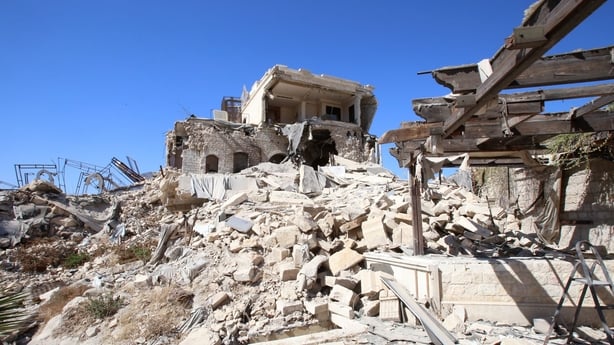 We need your consent to load this rte-player contentWe use rte-player to manage extra content that can set cookies on your device and collect data about your activity. Please review their details and accept them to load the content.Manage Preferences
Ammar al Selmo, the head of the Civil Defence, said the rescuers themselves were targeted, with three of their four centres in Aleppo hit.
"What's happening now is annihilation in every sense of the word," he said. "Today the bombardment is more violent, with a larger number of planes."
The bombing came after the Syrian army announced overnight that it was launching an operation to recapture the rebel-held sector of the city.
Western diplomats fear a bloodbath if the government unleashes a full-blown assault to capture the besieged opposition-held zone, where 250,000 civilians are still trapped.
The assault left no doubt that the government of President Bashar al-Assad and its Russian allies had spurned a plea from US Secretary of State John Kerry to halt flights to resurrect the ceasefire, which collapsed on Monday after a week.
Recovering full control of the rebels' last significant urban area would be the most important victory of the war so far for Mr Assad, strengthening his control over Syria's most populous and strategically important regions.