The Russian Defence Ministry said a US Predator drone was in the area where a UN aid convoy was partially destroyed in Syria on Monday and had appeared on the scene minutes before the incident.
Repeating denials of Russian involvement in the episode, Igor Konashenkov, a spokesman for the ministry, said Western allegations that Moscow was responsible were an attempt to distract attention from the US-led coalition's bombing of Syrian soldiers near Deir al-Zor airport on Saturday.
The United States said last night that it believes two Russian aircraft attacked the aid convoy near Aleppo.
The incident, in which 18 trucks from a 31-vehicle convoy were destroyed, looks likely to have dealt a final blow to diplomatic efforts to halt a civil war now in its sixth year.
The Syrian Red Crescent said the head of one of its local offices and "around 20 civilians" had been killed, although other death tolls differed.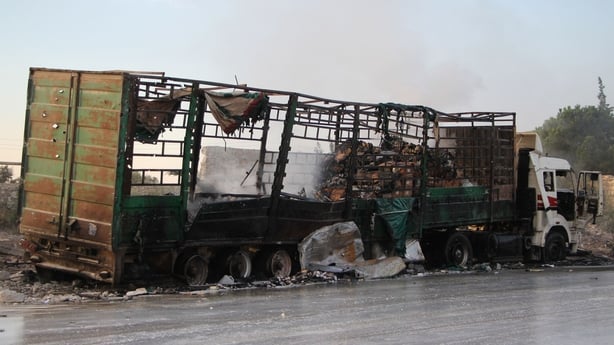 US officials have said two Russian Sukhoi SU-24 warplanes were in the skies above the aid convoy at the exact time it was struck citing US intelligence that led them to conclude Russia was to blame.
Ben Rhodes, a deputy US national security adviser, said the White House held Russia responsible for what he called an "enormous humanitarian tragedy" but he did not address whether the attack was carried out by Russian aircraft.
Earlier Russia, which denied its aircraft or those of its Syrian government allies were involved, had said it believed the convoy was not struck from the air at all but had caught fire because of some incident on the ground.
The attack prompted the United Nations to suspend all aid shipments into Syria.
Separately, four medics were killed and a nurse was critically wounded when an air strike hit a clinic in a village near Syria's second city Aleppo, the aid group that runs it said.
The four staff of the Union of Syrian Medical Relief Organisations were in two ambulances that had been called to the clinic to take some patients for more specialised treatment, the group said.
The clinic in the village of Khan Tuman was completely levelled and more dead were feared to be buried under the rubble, the group added.