Nine people were arrested after protesters chained themselves together on the runway at London City Airport this morning, causing flight cancellations and delays.
Flights were disrupted at the airport, in the Royal Docks area of the capital, after activists apparently in support of the Black Lives Matter movement made their way airside at around 5.40am.
The final two activists were arrested at around 11.25am, Scotland Yard said, nearly six hours after the nine-strong group occupied the single runway.
The protesters were being held on suspicion of aggravated trespass, being unlawfully airside and breaching airport bylaws, police said.
An airport spokesman said: "We are preparing the airfield to resume operations as soon as possible."
It is the latest demonstration involving anti-racism activists, who brought traffic to a standstill outside Heathrow Airport - and carried out similar protests in cities around the UK - in a coordinated day of action last month.
Runway is now open, we apologise for inconvenience caused this morning. Passengers are advised to check with airline for latest flight info.

— London City Airport (@LondonCityAir) September 6, 2016
Protestors have now been removed. We are preparing the airfield to resume operations as soon as possible.

— London City Airport (@LondonCityAir) September 6, 2016
Activists in support of BLMUK #Shutdown London City Airport to protest the UK's environmental impact on black people pic.twitter.com/7LvFnB9Pv3

— #BlackLivesMatterUK (@ukblm) September 6, 2016
Both British Airways and Cityjet operate flights between Dublin Airport and London City and have seen a number of their flights cancelled or delayed over the disruption.
Passengers have been advised to check with their airline before travelling to Dublin Airport.
The Metropolitan Police is investigating how the protesters managed to get airside.
A Scotland Yard spokesman said nine people on the runway locked themselves together after erecting a tripod.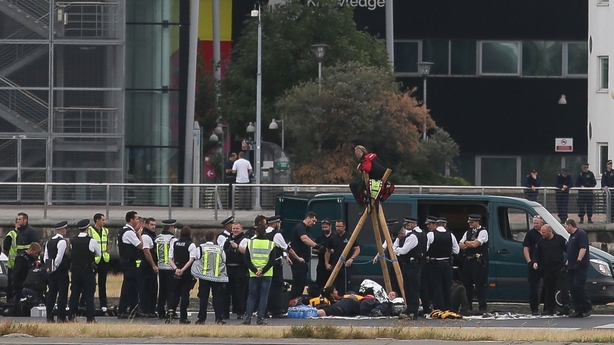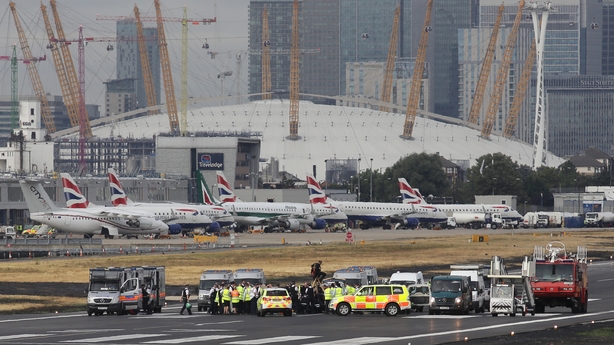 Several emergency service vehicles were parked on the runway as attempts were made to clear the protesters.
A man who had attached himself to the top of a wooden structure, was surrounded by police officers and a set of aircraft steps were wheeled up to him in an apparent bid to get him down.
Police boats could also be seen circling the dock surrounding the runway.
Having attached a helmet to the man, police removed him from the top of the structure and on to the plane steps.
After sitting briefly on the platform with a rope around him, he was taken down.
A police van was seen driving down the runway, away from the scene.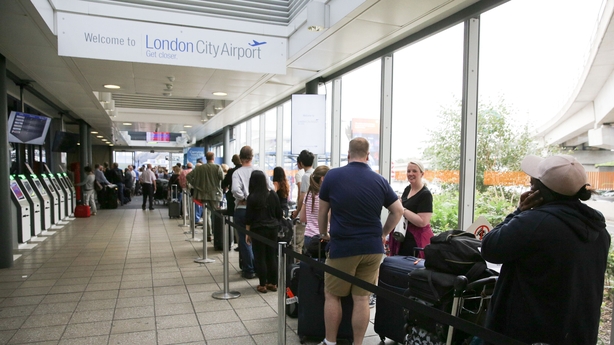 In a statement, the protest group's UK division cited expansion plans at the airport as the cause of their action.
They said: "Recently London City Airport was given approval to expand its capacity, a move that consigns the local community in Newham to further deterioration of their environment.
"It is an airport designed for the wealthy. At the same time 40% of Newham's population struggle to survive on £20,000 or less. When black people in Britain are 28% more likely to be exposed to air pollution than their white counterparts, we know that environmental inequality is a racist crisis."