Mourners at the funeral of Trevor O'Neill, who was shot dead while on holidays in Spain in a case of mistaken identity two weeks ago, have heard that he was full of life, laughs and stories.
Hundreds of people gathered at St Bernadette's Church in Crumlin for the funeral mass of Mr O'Neill who was killed in a gang-related attack believed to be related to the Hutch-Kinahen feud.
He was not the intended target but a man he was talking to, a member of the Hutch family, was.
Mr O'Neill was with his family on Majorca to celebrate his 42nd birthday.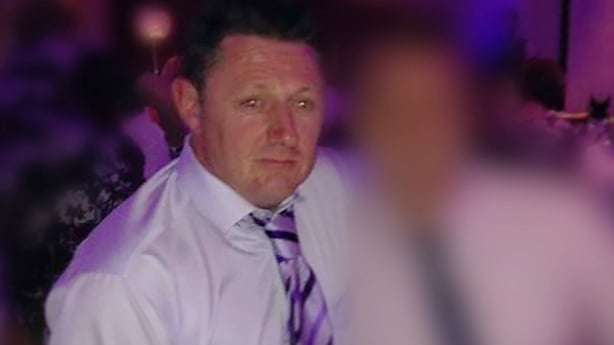 Chief mourners included his partner Suzanne, their three children aged 12, six and five as well as his father Vinnie.
Also present was a large contingent of staff from Dublin City Council where Mr O'Neill worked in the drainage department.
Dublin Lord Mayor Brendan Carr and City Manager Owen Keegan were also present.
Fr Melvin Mullins told the congregation that Mr O'Neill had a wide circle of friends but that his family was the number one love of his life.
He said there was a sense of disbelief about his death, saying that expressions like "mistaken identity" and "wrong place wrong time" were clichés that would provide little sympathy to his family.
"The truth is," Fr Mullins said, "Trevor was murdered, killed doing something ordinary and any father would do on a family holiday".
He described it as a tragic loss, and said it was no accident.
Among the symbols brought to the altar was a Dublin flag, a Liverpool jersey and a bodhrán.
A cousin of Mr O'Neill also paid tribute to him saying he was full of life, laughs and stories, but most of all he was full of love.
He said he adored his family and that he lived, loved and died for them and was an amazing man.
He also said Mr O'Neill was devoted to his job in Dublin City Council, which he joined in 1999.
He was buried following the funeral mass at Mount Jerome Cemetery.