The family of Pat Hickey, who is being held by Rio police in relation to alleged mis-selling of tickets for the Olympic Games, say they are gravely concerned about his health and continued detention in Brazil.
They also say they are hoping for a meeting with Taoiseach Enda Kenny.
Mr Hickey has temporarily stood aside as president of the Olympic Council of Ireland during the investigation and is currently being held in a maximum security prison following his arrest on 18 August in Rio de Janiero.
In a statement issued this afternoon, the Hickey family has also called on Minister for Foreign Affairs Charlie Flanagan and Minister for Sport Shane Ross to intervene urgently in addressing "extremely worrying" issues surrounding his arrest and detention and the effect it is having on his health.
The family said they are now "gravely concerned about the effect this degrading and humiliating ordeal has had on their father and grandfather and how it continues to affect his physical and mental health".
They describe as "extremely concerning" the pre-trial disclosure of what is "purported to be evidence to the media" without any right of reply on Mr Hickey's behalf.
They have asked he be immediately released from custody and given an opportunity to respond to the accusations and their "priority" is to get him home to Ireland.
In a statement issued through the offices of a Dublin solicitor appointed by the family, they say his arrest and detention occurred seven days ago and still no charges have been brought, nor has an appropriate venue for a bail application been made available.
The Hickey family outlined five points they describe as extremely concerning to them:

- The manner in which Pat Hickey was arrested
- His detention in a high security prison without charge
- The effects of such detention on Pat Hickey's health
- The pre-trial disclosure of what is purported to be evidence to the media without any right of a reply (which is leading and (sic) imbalanced reporting)
- Pat Hickey's right to a fair hearing, given the prejudicial way in which he has been treated to date.
They said it was; "entirely inappropriate and unacceptable for a 71-year-old Irish citizen be taken from his bedroom, arrested and walked in a state of undress before a pre-arranged camera crew, after which film and still shots were released to the global media".
The family has requested an "urgent meeting" with Minister Flanagan and Minister Ross and have asked their solicitor to make contact with the Brazilian ambassador, Alfonso José Cardoso to make their concerns known to him.
In the statement, issued by solicitor Anne Marie James, the family said Mr Hickey "has a serious heart condition and they are extremely anxious that he would be immediately released on bail and given the opportunity to respond to the accusations.
"They also, as a priority, want to get him home to Ireland as they have increasing concerns about his safety."
In a statement released this afternoon, Mr Flanagan said: "The Department of Foreign Affairs and Trade is providing ongoing consular assistance to Mr Hickey through the Irish Embassy and Consulate in Brazil.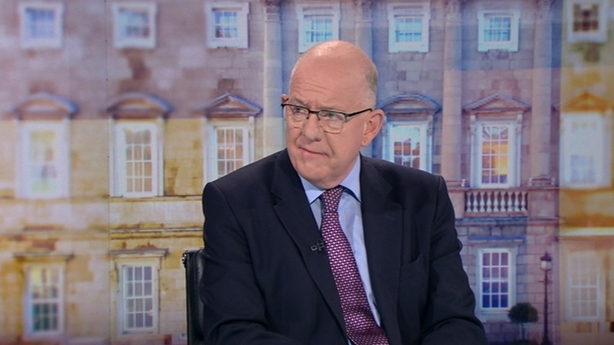 "My officials are in ongoing contact with the family of this citizen and with legal representative acting on his behalf.
"Senior officials of the department met with Mr Hickey's Dublin-based solicitors on Wednesday, 24 August, and discussed the family's concerns in detail, and explained the department's approach to this consular case.
"In general terms, the department's focus in cases of arrest or detention of Irish citizens overseas is on a number of specific issues including ensuring that the citizen has access to legal representation, that the citizen is not being discriminated against on the grounds of nationality, and that the host authorities are fulfilling their responsibilities in ensuring the welfare and well-being of our detained citizen.
"In this context my officials are in ongoing contact with the Brazilian authorities. The department cannot however provide legal advice or interfere in any way in the judicial processes in another country," said the statement.
The statement added that Mr Flanagan has agreed to meet with the Hickey family and "arrangements will be made for this meeting to take place in the coming days".
Separately, a statement from the Department of Sport was also issued this afternoon.
"The Minister [for Sport, Shane Ross] has received correspondence from representatives of the Hickey family which will be considered in due course.
"First and foremost, [the] Department of Foreign Affairs continues to provide consular assistance to two Irish citizens detained in Rio.
"Any requests for assistance from Irish nationals abroad would be best facilitated through the recognised channels," added the statement.
Background to Olympic tickets controversy
A non-statutory inquiry has been set up by the Government to investigate the controversy.
Retired judge Carroll Moran will head the inquiry, which will last for three months.
The terms of reference of the inquiry were announced on Wednesday by Minister for Sport Shane Ross.