The number of complaints against doctors increased by 19% last year, according to the latest annual report from the Medical Council.
Five doctors were struck off the register last year, compared with one in 2014.
The Council received 369 complaints about doctors last year.
It compares with 308 complaints in 2014 and represents an increase of 19% on the previous year.
Complaints about communication were up by 40%.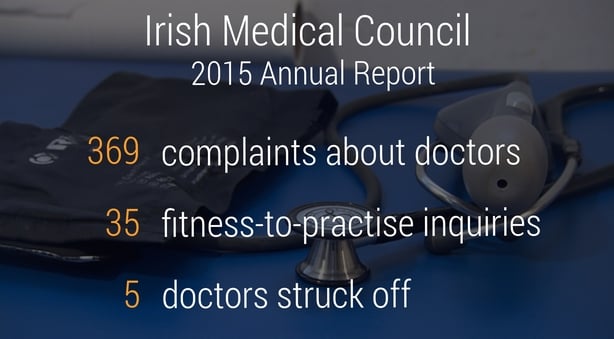 Most complaints were made by the public, 25 were made by healthcare professionals and two were made by the HSE.
Among the top reasons for complaints were: poor communication, diagnosis, clinical investigations and examinations, professional skills, treating patients with dignity, prescribing and follow-up care.
As a complaint can be made against more than one doctor, of the 369 complaints last year, 452 doctors were involved.
Bill Prasifka, the council's chief executive, said he was struck by the high proportion of doctors who are not complying with their legal duty, to maintain professional competence, by engaging in continuous professional development.
He said that compliance was lowest in the general division of the register, rather than the specialist division.
The council held 35 fitness-to-practise inquiries last year, one was adjourned and 45 were pending.
Around half of the inquiries were held in public.
At the end of last year, 15 doctors were being monitored to ensure compliance with conditions attached to their continued practice.
A further 41 were being supported by the council's health committee, to continue in practice, once there was no risk to patient safety.
These are doctors most commonly with addiction, or mental health issues.
The report also shows that reliance on international medical graduates is among the highest in the OECD, with almost 38% of the workforce an international medical graduate.
There are now over 20,400 doctors registered to work in Ireland, the highest ever number.
The medical workforce is 59% male, 41% female.
Dr Stephen Murphy, National Executive of the National Association of GPs, said the number of complaints need to be put in perspective.
He said that of the complaints, around 90% never proceed any further.
Dr Murphy said that while the figures increased between 2014 and 2015, they went down between 2013 and 2014.
He said the number of complaints go up and down and he believed there was no significant increase.
The Irish Medical Organisation said that the Medical Council's report demonstrates some key problems with the health services.
It said doctors were working in an increasingly stressful and under-resourced environment and the extent to which this was a contributing factor to complaints needed to be established.
The IMO said that a detailed analysis of the complaints and the underlying causes was needed, to ensure the system learns from patient complaints.