London's night tube got off to a smooth start with more than 50,000 travellers taking advantage of the first run of the service, Transport for London (TfL) has said.
The city's Mayor Sadiq Khan, who was on board the first Victoria line service in the early hours of this morning, said you could feel "the buzz" and excitement as he met passengers.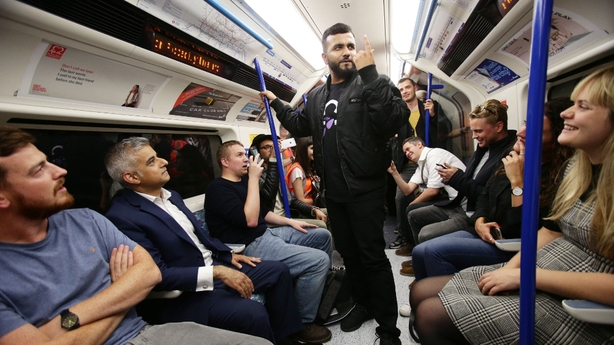 Oxford Circus was one of the busiest stations, with 6,500 people tapping in, while 4,250 people tapped out at Stratford station, according to figures released by TfL.
Around 100 British Transport Police (BTP) officers are patrolling the network, which operates through the night on Fridays and Saturdays.
Superintendent Chris Horton, the officer responsible for policing the Underground, insisted there was "no reason" why passengers would not be as safe as during the day.
He said the force would focus on "being visible" and ensuring it was "able to intervene in places that are likely to see significant issues".
A spokeswoman for the force said it had been called to just four incidents on the first run of the Night Tube, which was "in line with what we would expect to see on a Friday night".
"At this stage we are not aware of any crimes being committed," she added.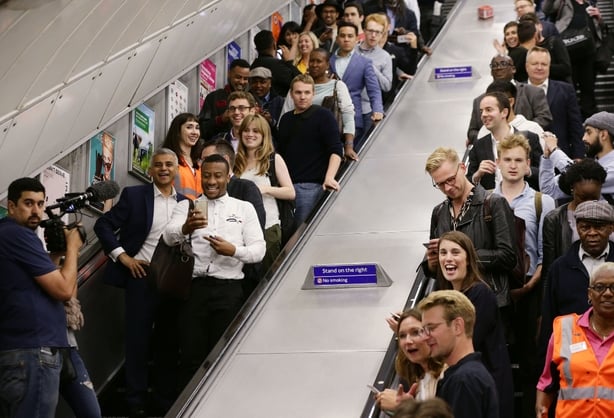 All-night services also started on parts of the Central line, where previously some passengers had to get their last train before midnight, while the Jubilee, Northern and Piccadilly lines will follow in the autumn.
London Underground expects 50,000 people to use the Night Tube each weekend, rising to 200,000 once all five lines are open.
Mr Khan chatted to passengers using the first train, which departed from Brixton, south London at 12.34am with passengers ranging from boisterous revelers to calm groups and individuals.
"You're making history," he told one couple.
Speaking as the train made its way towards north London, Mr Khan told the Press Association: "You can feel the buzz, you can feel the vibe. People are really excited.
"What's important is we got the detail and the planning right. I'm really pleased that 100 days or so after becoming the mayor we've got that right."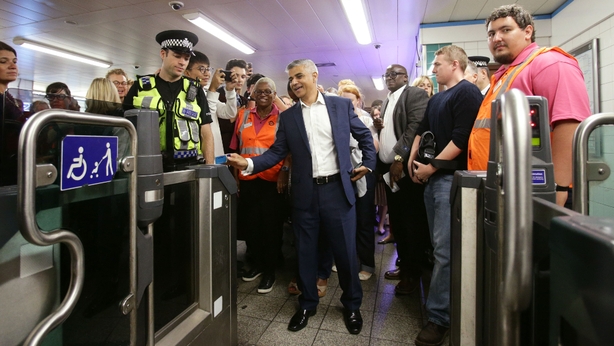 Mr Khan's predecessor, Boris Johnson, announced in September 2014 that the service would begin on 12 September 2015, but a bitter dispute with the rail unions delayed the project.
The driver of the first train said the service was "great for London" and insisted he would be able to adjust to working through the night.
A recent study by business membership organisation London First estimated the Night Tube could be worth £77m (€89m) each year to the capital's economy by 2029.