Former Olympic Council of Ireland president Pat Hickey is being held at Bangu Prison in Rio de Janeiro as he faces allegations of illegal resale of tickets for the Olympics.
A judge in Brazil denied bail to Mr Hickey today.
Mr Hickey has stepped aside temporarily as president of the Olympic Council of Ireland (OCI) following his arrest earlier this week.
Mr Hickey was questioned by police in Rio de Janeiro overnight.
He left the Samaritano Hospital, in the suburb of Barra, last night in a wheelchair and was driven by the Civil Police to the Carlos Eboli Criminal Institute in downtown Rio.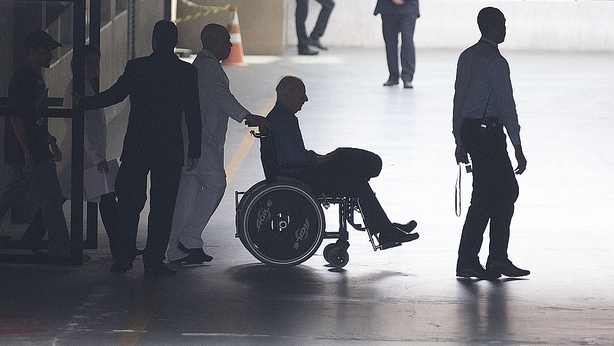 There, he gave a statement to the inspector leading the investigation, Aloysio Falcão for several hours.
He left the institute in the back seat of a police car, hiding from photographers, and was taken to a procession centre at Police City in Jacaré before being transferred to Bangu Prison.
The Prison Service in Brazil has told RTÉ News that Mr Hickey is sharing a cell with one other prisoner.
The unit at Bangu maximum security jail has a capacity of 532. It has 396 inmates today.
When asked if Mr Hickey is being held separately from the general prison population, RTÉ News was told "all prisoners in the Fluminense [a suburb] penitentiary system are treated equally, with the right to time in the sun, meals, and visits, after registration".
The Civil Police is also now referring Mr Hickey's case to Polinter, an inter-state investigations unit.
The Irish director of international sports hospitality company THG Sports, Kevin Mallon who was arrested on 5 August, is also being held at Bangu Prison.
Brazilian police detained Mr Mallon and Barbara Carnieri who was working as an interpreter at the Rio Olympics on charges of fraudulent marketing of tickets for the Games.
A press release from Brazil's Civil Police said that a second bail application to the Supreme Court of Justice by Mr Mallon was refused in a decision published on 10 August.
It is likely that the decision by Justice Claudio Brandao of the Court of Justice to deny the bail application by Mr Hickey will be appealed to a higher court.
In a statement this evening, the OCI said that it has "no further comment on the charges against Mr Hickey who is receiving his own legal advice and is entitled to natural justice and due process."
Background to the tickets controversy
Meanwhile, details on the format of an independent inquiry to be carried out into the Olympic ticket controversy were announced by Minister for Transport, Tourism and Sport Shane Ross.
Earlier, Fianna Fáil TD Timmy Dooley said that an independent inquiry lead by senior counsel or a retired judge should be considered.
Speaking on RTÉ's Today with Keelin Shanley, Mr Dooley said the Government has to show that it is serious about protecting Ireland's international image.
He said it was up to the Attorney General to decide if a commission of investigation should be established.
"At the early stages it might have been appropriate to carry out preliminary inquiry by somebody within the Department of Sport, [but] I think we have moved well beyond that at this stage."
Mr Dooley said the first thing that needs to be established is how such a large number of tickets destined for Irish fans found their way into an alleged "compromising position".
He said the relationship between the OCI, Pro 10 and THG needs to be clarified.
Mr Dooley said it needs to be made clear whether there was an open tender held for the selling of Olympic tickets and how Pro 10, with no prior experience of selling such tickets, was chosen as the Authorised Ticket Re-Seller.
He said if the allegations are proven to be true, it needs to be made clear who would profit from the sale of overpriced tickets.
Mr Dooley also added that it should also be explored as to whether or not there is a role for the Director of Corporate Enforcement in terms of the corporate governance of the companies involved.
He said the sales of tickets for previous Olympic Games should also be looked at to see if this had happened before.
"This is another staging post that we have reached. It is positive news in that sense and a lot of people thought we would never reach this stage."