German Chancellor Angela Merkel has "firmly" rejected calls to reverse her welcoming stance towards refugees following a series of attacks in the country.
The assailants, she said, "wanted to undermine our sense of community, our openness and our willingness to help people in need".
"We firmly reject this," she said at a news conference.
She defended her leadership style after she remained on holiday this week following the Islamist attacks that critics blamed on her open-door refugee policy.
Ms Merkel batted away questions about why she had not visited the scene of any of five attacks committed since 18 July that left 15 people dead - including four attackers - and dozens injured.
"A decision has to be taken on this each time and perhaps some members of the public have a different view to the way I decided to do things," she said.
Ms Merkel said she would attend a memorial ceremony on Sunday in Munich.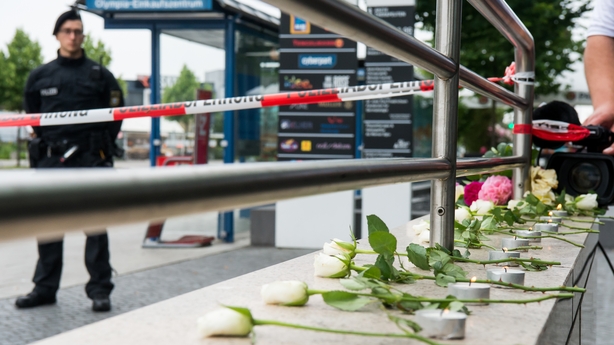 Munich was the scene of the bloodiest of the attacks, in which an 18-year-old German-Iranian gunman killed nine people.
Ms Merkel faced criticism on social media after failing to react until the next day, 17 hours after US President Barack Obama.
"I have the feeling that I acted responsibly and correctly and no other feeling," she told the packed news conference, condemning two attackers who were refugees for mocking Germany and the other refugees the country has welcomed.
The attacks in Germany have led to accusations from Ms Merkel's foes and even some allies that her open-door refugee policy is to blame after over a million migrants entered the country in the past year, many fleeing war in Afghanistan, Syria and Iraq.
Two assailants, a Syrian asylum seeker who blew himself up in Ansbach and a refugee from either Pakistan or Afghanistan who attacked people on a train in Bavaria, had links to Islamist militancy, officials say. However the Munich gunman did not.
The attacks have burst any illusions in Germany that the country is immune to attacks like those claimed by the so-called Islamic State in neighbouring France.
"Angst cannot be the guide for political action," Ms Merkel said.
She set out a nine-point plan to respond to the attacks, including measures to recruit more staff for security agencies, and an early warning system for the radicalisation of refugees.