Allied Irish Bank has reported pre-tax profits of €1 billion for the first six months of 2016, while the lender also said it will be contacting customers who had their tracker mortgages incorrectly taken from them.
The figure includes a one-off exceptional benefit from the sale of its stake in Visa Europe.
The bank also made back €211m that it had previously written down on expected bad loans.
Impaired loans reduced to €11.3 billion - that was down €1.8 billion since December and €18 billion from the peak in late 2013.
The bank is also to repay €1.8 billion to the State for loan notes that were issued as part of the bank bailout.
The State still owns more than 99.8% of AIB following a bailout of nearly €21 billion during the financial crisis.
AIB CEO Bernard Byrne said the bank will start writing to customers in the coming weeks informing them that they are to be put back on tracker mortgages that were wrongly taken from them.
It has been reported around 3,000 customers will have letters sent to them.
It is part of an industry-wide review that was ordered by the Central Bank last December.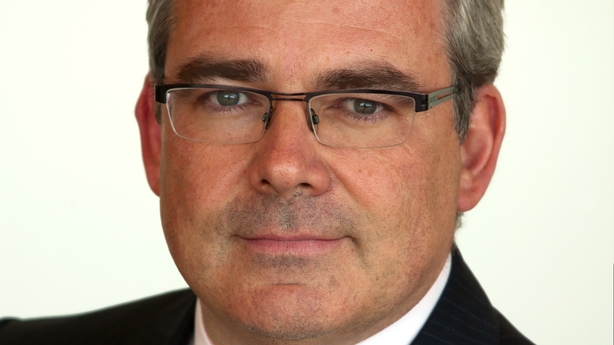 Mr Byrne told RTÉ's Morning Ireland that the provision made last year of €190m would not be changing.
He said: "We've about 630,000 contracts that we've had to get through and look at. We haven't talked about customer numbers.
"We've looked at progress and the fact that we're going to start communicating with customers next month."
Mr Byrne said the bank was not talking about any new variable mortgage rate reductions at this point.
The bank has cut the standard variable rate four times in less than two years, the most recent of which came into effect on 1 July.
Meanwhile, operating expenses at the lender increased by 5% in the first half of the year to €677m, which was in line with expectations.
There was a 16-basis-point rise in AIB's net interest margin to 2.08%, with further expansion expected.
On the new lending approvals front, there was an 8% rise during H1 to €6.1 billion, €3.9 billion of which was drawn down.
Mr Byrne said the results show AIB "is now a customer-focused, sustainable and well-capitalised business that is in a growth phase."
He added: "These results reflect the underlying strength of the financial performance of AIB and our robust capital position which allows us to continue to support the economies in which we operate and to facilitate the further payment of €1.8 billion to the State.
"We are a customer focused digitally enabled bank and our financial performance, strong franchise and leading market propositions, position us well for future challenges and opportunities."