A motion by the Social Democrats and the Green Party calling for greater accountability and transparency into the charity sector has been carried without a vote in the Dáil this evening.
Introducing the bill, joint leader of the Social Democrats Catherine Murphy said the motion intends to add to the existing regulation.
She said that many people do not realise the size of the charity sector, emphasising the point by holding up a print out of the 21,000 registered charities with Revenue.
Deputy Murphy said the amount of public funds going to charities is "immense" and would be better utilised in a streamlined sector more accurately targetted against needs.
Catherine Murphy held up a print out of Revenue's list of 21,000 registered charities during tonight's Dáil motionhttps://t.co/8xZ23pXaQP

— RTÉ News (@rtenews) July 12, 2016
Ultimately, she said the Social Democrats motion is the party's contribution for greater accountability and transparency into the charity sector in addition to part four of the legislation being enabled in September.
Social Democrat Stephen Donnelly told the chamber that a company that bought distressed assets was using trusts with charitable status to avoid paying millions in tax.
He said charitable status should not be available to hedge funds or debt collectors, adding the specific aim was to avoid paying taxes in this country and the three trusts in question should not have charitable status.
Minister for Justice Frances Fitzgerald acknowledged that the proposal was motivated to enhance how a broad range of wrongdoing is addressed.
She said it was not clear how the amalgamation of a wide range of agencies with widely varying functions would enhance the capacity of the State to fight corruption, however, said she would accept the proposals.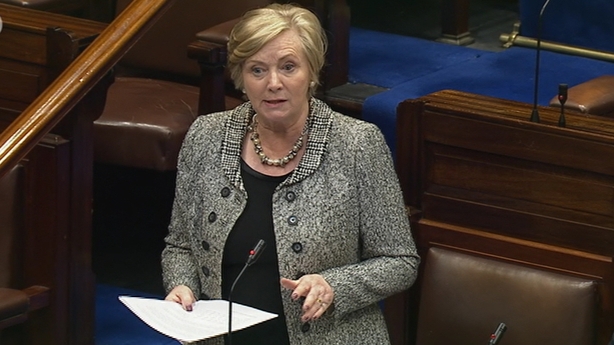 Ms Fitzgerald said there was a responsibility on many different bodies, on charities themselves and on those who see wrongdoing, to report it.
The minister said the points raised by Mr Donnelly were important and she offered to give them to the Charity Regulator, if he had not done so.
Fianna Fáil's Jim O'Callaghan said charities were set up historically because governments of the day did not provide for the needy.
He said many charities had become like businesses and as a consequence individuals were being paid high salaries. There had to be transparency around staff costs, he added.
Sinn Féin TDs supported the motion, with party leader Gerry Adams saying Console and St John of Gods needed to be subject to the full rigours of the law.
His party colleague Pearse Doherty said white collar crime laws in Ireland are not strong enough and this needed to be dealt with.
Jan O'Sullivan said the Labour Party would also be supporting the Social Democrats motion.
She said it was "obscene and unacceptable" to contemplate the idea that public money allocated for the provision of support services for grief stricken families could end up paying for fast cars, designer clothes and exotic foreign holidays for a clique at the top of a charitable organisation.
Green Party leader Eamon Ryan said the central message was that enhanced regulation was needed.
He also said regulation would add to the strength of charities.
Mr Ryan said it made sense for the State, who was funding them, to spend more on regulation.
On the issue of pay, he said there had to be an incentive to get good people into organisations.
Minister of State Helen McEntee said the regulator was engaging with 12,500 charities and the regulation model should be continually honed to deliver better services.
The revelations around Console, she said, were a massive breach of trust and went against the ethos and spirit of who we are as a people and a nation.
She welcomed the external review of Section 38 agencies and said it would be extended to Section 39 agencies in November, of which there are 2,393 agencies funded.
Earlier, Social Democrat TD Róisín Shortall said that a new model of dealing with corruption is needed; a proper mechanism to investigate and prosecute areas where there is corruption.
Speaking on RTÉ's Six One News, she said there is little or no accountability because there are no consequences for people engaged in wrong-doing.
The motion was prompted by events at Console, she said, as further scandals surrounding the charity sector emerged.
Two Console cars auctioned for €23,000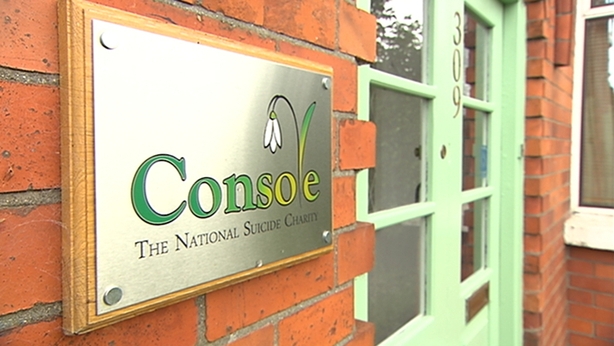 Two company cars which had belonged to suicide prevention charity Console were auctioned in Dublin this evening for €23,000.
A 2009 Mercedes CLS sold for €11,000 while a 2010 Audi Q5 sold for €12,000.
The cars had cost the charity €87,000.
They were handed over to Console's interim chief executive, David Hall, 11 days ago.
Meanwhile, Mr Hall has said he has secured pay for staff at the charity for the past two weeks.
He is meeting again with the Health Service Executive tonight where pay and transfer of services will be on the agenda.
All matters relating to pay and business liabilities will be discussed at a board meeting of Console tomorrow.