Around 600 people have held a demonstration in Dublin city centre calling for equality in education regardless of religion.
The march set off from St Stephen's green shortly after midday and made its way to Leinster House.
The march organisers, Education Equality, said the law needs to be changed so that no child can be refused entry to a State-funded school because of their religious status.
They say that showing a preference to applicants for places on grounds of religion is discrimination.
A selection of children's handprints was collected for Minister for Education Richard Bruton.
Organisers said this was a symbolic gesture from all the children asking for an education system that cherishes them equally regardless of their families' beliefs.
Speaking at the event, Education Equality chairperson April Duff said: "Discrimination on religious grounds is one of the most appalling forms of inequality, based as it is on such a personal aspect of an individual's identity.
"Last Thursday, our representatives in Dáil Éireann voted to delay all progress towards equality for another year. We cannot accept that. Families cannot face another year of discriminatory admissions policies, of being ranked as 'category 6 of 6' in their local schools."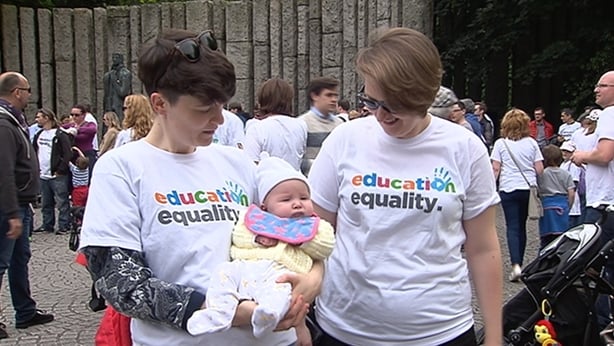 Addressing the causes for delay in removing religious discrimination, Ms Duff said: "Time and again, 'complex constitutional issues' have been cited in refusing to end discrimination.
"But I say to you: there is nothing in our Constitution that requires religious discrimination. Our Constitution protects our rights, not takes them away," she added. 
A spokesperson from the Department of Education said that the best and quickest way of providing diversity and choice for parents is by providing additional multi-denominational schools for parents.
They said that Minister Richard Bruton has committed to trebling the rate of delivery of these schools by delivering a total of 400 non-denominational and multi-denominational schools by 2030. 
Meanwhile, Fianna Fáil Education Spokesperson Thomas Byrne has reiterated his party's commitment to reforming the schools admissions process "by making it fairer and more open". 
Mr Byrne said: "I am determined that this issue be a priority in the coming months.
"Fianna Fáil is also acutely conscious of the needs of minority faith schools.  
"It's essential that every interest group, including parents, is brought before the Oireachtas Education Committee so that their voices and ideas can be heard, and to ensure that the process is one of inclusion, not exclusion."