The Dáil debated a private members' motion to allow abortion in the case of a diagnosed fatal foetal abnormality.
The Amendment to the Protection of Life in Pregnancy Bill is being presented by Independents4Change.
Minister for Health Simon Harris issued an apology to Amanda Mellet, who successfully brought a complaint against the State after she was forced to travel to the UK for a termination in 2011 when her unborn baby was diagnosed with Edward's Syndrome.
Earlier this month, the United Nations found that Ireland's ban on abortion subjected Ms Mellet to discrimination and cruel, inhuman or degrading treatment.
Independent experts from the Geneva-based Human Rights Committee, said Ms Mellet was forced to choose between carrying her baby to term, knowing it would not survive, or travelling abroad for a termination.
The UN body also hit out at the Government for putting her through financial and emotional suffering.
The minister said the lack of compassion shown to Ms Mellet by the health service was deeply distressing. He said he wanted to put his sorrow and apology on the record of the house.
He said that he was not opposed to the purpose of the bill, but he had to set out the grounds why he was not supporting it.
The minister said the Government would not be supporting it as if falls outside of the parameters of Article 40.33 of the Constitution, which acknowledges equal right to life of the mother and baby.
Last week, Minister Harris received advice from Attorney General Máire Whelan that Deputy Mick Wallace's bill is unconstitutional.
This evening, Mr Wallace told the Dáil that Ireland was one of two European Union states that did not allow for cases of abortion in the case of fatal foetal abnormality.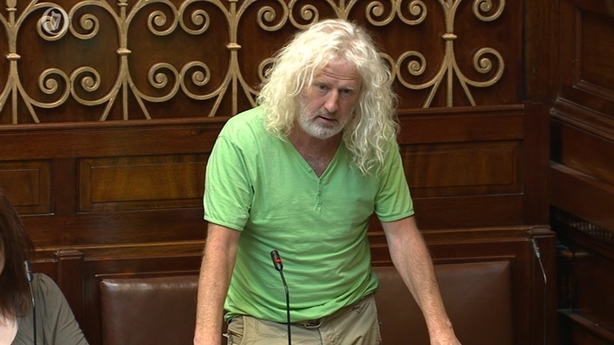 He said that the legal advice from the Attorney General did not relate to their bill and was possibly outdated if it was issued in 2010.
He said that the Government was obliged to act on the UN report.
Deputy Clare Daly told the house that the Master of the Rotunda said there were 71 cases of fatal foetal abnormality diagnosed, with 41 of those affected deciding to travel to the United Kingdom.
She criticised Taoiseach Enda Kenny's recent comments that the UN report on Ireland's abortion laws was not binding.
Ms Daly said that the bill was restrictive, and was not a back door to abortion.
Fine Gael Deputy Kate O'Connell broke down as she told the Dáil that during her 20-week scan, she and husband were told that their much wanted child had a profound defect.
She said that against the odds the pregnancy went to term and she delivered her son whose organs were almost entirely outside his body. Ms O'Connell said she now has a fit and healthy five-year-old boy. 
O'Connell:'My husband and I were told our much wanted child had a profound defect when we went for our 20-week scan'https://t.co/LKsIoUYQVs

— RTÉ News (@rtenews) June 30, 2016
She told the Dáil that the week they had to wait for results to see if her son had a genetic fatality was the hardest week "of our young lives". 
Ms O'Connell said people are receiving a diagnosis that tells them to prepare for a death and not a birth and their misery cannot be relieved in their own country.
However, she said she did not support the proposed bill as they had been told it is unconstitutional. Ms O'Connell said the Attorney General has made it clear, and to ignore her professional opinion would be do her a disservice.
She said she believed a repeal of the Eighth Amendment would be the best, but bills, such as the one proposed, "risked muddying the water".
People Before Profit TD Richard Boyd Barrett said that as someone who lost a daughter through fatal foetal abnormality, "it was depressing in the extreme that we were discussing this."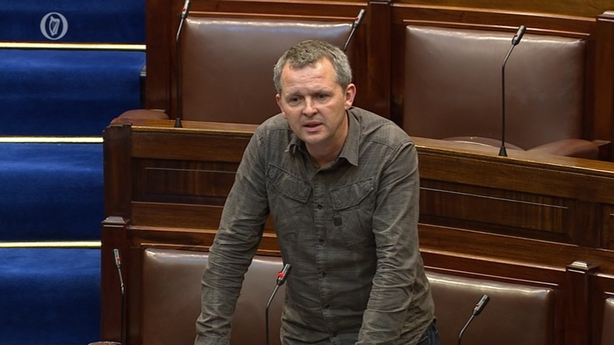 He said that no one that has been through this wants to talk to anybody other than their friends and family about it.
Deputy Boyd Barrett said the Government should let the bill pass, "because not to do so is to continue this cruel degrading, humiliation of people".
Minister for Children and Youth Affairs Katherine Zappone said it was incumbent on everyone to listen to personal stories and make decisions in light of those stories. 
The minister welcomed the bill and said as an Independent member of the House, she agreed with it. However, she said a constitutional change was needed and the bill would not provide that change.