"But we can still be friends," insisted a smiling Roger Helmer from UKIP on the prospect of a post Brexit Ireland.
The Irish MEPs at a European Parliament Brexit breakfast stared forlornly into their coffee and croissants, not looking at all convinced.
It is 8am in Strasbourg and MEPs from the UK, Ireland and Holland are gathered at the event organised by the parliament's largest group, the European People's Party (EPP) on a day when poll results showed a slight edge in favour of a Brexit. Although the polls have been showing a wafer thin margin.
Two weeks from the UK's referendum on EU membership, the atmosphere is polite, but anxious. The few dozen people gathered know the next time they meet in Strasbourg, the future of the EU may have changed dramatically.
Mr Helmer said Britain and Ireland would remain friends in the event of a Brexit, and they were tired of being treated like "an offshore province" by the EU.
Fine Gael MEP and vice-president of the parliament Mairead McGuinness evoked a depressing chapter in Irish history when she told the gathering she was old enough to remember crossing the border at a time of security and customs checks. A return to this would be "desperately upsetting".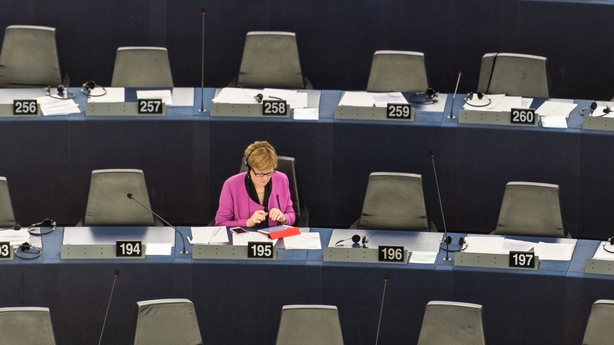 But in the studio for RTÉ's European Parliament Report, DUP MEP Diane Dodds sounded a more upbeat note about the economic prospects for Northern Ireland.
Her party is the only one campaigning north of the border in favour of a Brexit.
"I would rather be part of the fifth largest economy in the world, able to stand up on our two feet, able to negotiate our own trade deals."
She added that the UK imports more than it exports to the EU.
She also criticised the scaremongering, which she said people were fed up with it and "they are not buying it, as the polls are showing".
"And what about the €3.5 billion that the EU invests in the north?" Sinn Féin MEP Liadh Ní Riada asked her, warning of a painful withdrawal of EU funding such as CAP payments to farmers.
"I still haven't heard a guarantee that you are going to shore up the billions that you lose out in terms of investment from the EU?"
Ms Dodds responded that the EU investment was simply their own money coming back to them - the UK is a net contributor to the EU - but with "strings attached".
Ms Ní Riada said her party would be asking Northern Ireland's Secretary of State Theresa Villiers to state publicly her intentions on a border poll in the event of a Brexit.
Surely a Brexit has the makings of an own goal for the DUP?
"There is no momentum in Northern Ireland for a border poll," Ms Dodds said firmly.
---
Tackling tax 
There was much finger pointing during a heated debate in the European Parliament this week on tax avoidance, with one Irish MEP pointing the finger firmly at Ireland.
"My home state of Ireland has a reputation as an enabler of massive tax avoidance for large corporations and the wealthiest in society. Unfortunately the perception is true," MEP Matt Carthy told the plenary gathering.
This sparked an angry retort from Fine Gael MEP Seán Kelly, who described Mr Carthy's contribution as "totally unacceptable".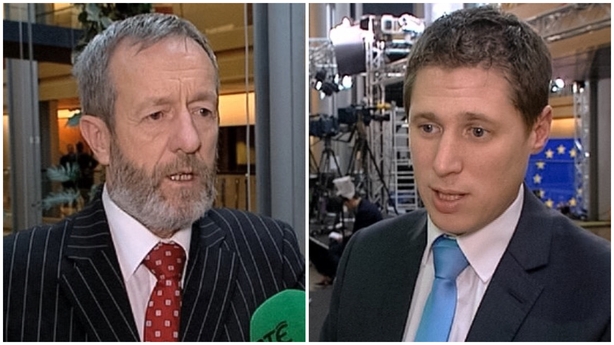 Mr Kelly quoted the OECD's support for Ireland's efforts to achieve tax transparency.
Fine Gael voted against the report which plans to limit tax base erosion and profit shifting, citing taxation as a sovereign issue. However, MEP Brian Hayes was interrupted during the debate by a Green MEP from Belgium.
"When a company plays off one country against another, I would argue the real tax sovereignty lies with the multinationals," MEP Philippe Lamberts stated.
Most Irish MEPs either voted against the report or abstained, but it was passed by 486 votes to 88 - an indication that Ireland may struggle for support in any future battles to retain its 12.5% corporation tax.
---
Brussels 'made us do it' 
Independent MEP Marian Harkin told the Strasbourg parliament that Irish politicians could no longer use the "time-honoured excuse that Brussels made us do it" when it comes to water charges.
In an attempt to give clarity to a recent European Commission response on whether Ireland was obliged to charge for water under the Water Framework Directive, Ms Harkin quoted a European Court of Justice ruling in favour of Germany on the very same issue.
Ms Harkin said the court's ruling in 2014 was clear. Quoting from the judgement, she said: "The directive does not per se pose a generalised pricing obligation in respect of all activities of water use."
"In this case what's good enough for Germany is good enough for Ireland. And those Irish politicians that are trying to blame Brussels have no legal basis for their argument," she added.
This month's European Parliament Report will be broadcast on RTÉ News Now on 10 June at 10pm and RTÉ One Television on 13 June at 12.05am.
---
By RTÉ's Edel McAllister