Tens of thousands of women have taken part in the 34th women's mini-marathon in Dublin.
The event started from Dublin city centre at 2pm and competitors made their way from Baggot Street out through Ballsbridge and Donnybrook before returning to the south city centre.
It is the largest female-only event of its kind in the world, and the biggest single-day charity fundraiser in Ireland.
Siobhán O'Doherty from Co Tipperary was the first competitor to cross the line in a time of 34 minutes and 30 seconds.
Natasha Adams from Donegal was second across the finish line in 34.33 and Sarah Mulligan secured third place in 35.28.
Elite runners make up just 6% of the participants and more than 800 charities benefit from the mini-marathon.
Organisers say almost €200m has been raised for charity since the event began in 1983.
There will be traffic restrictions along the route until 7.30pm this evening.
Siobhán O'Doherty from county Tipperary has won the women's #minimarathon for the second time. pic.twitter.com/XJZzNxp1li

— SharonGaffney (@Sharon_Gaffney) June 6, 2016
The @DubFireBrigade lads at Donnybrook Station cooling down the #VhiWMM runners pic.twitter.com/ZoRClEBzIb

— Stephen Murphy (@SMurphyTV) June 6, 2016
Meanwhile, in Cork at least 10,000 people turned out for the Irish Examiner Cork City Full and Half Marathon.
The full race began at St Patrick's St at 9am, while the half marathon started from Victoria Road at 10.45am.
This year's winner was Philip Harty from Dungarvan who completed the marathon in a time of 2 hours 33 minutes.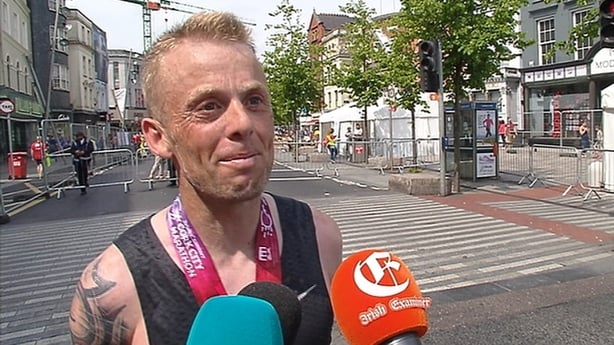 Nollaigh O'Neill from Leevale was the first woman to cross the line in 3.00.41.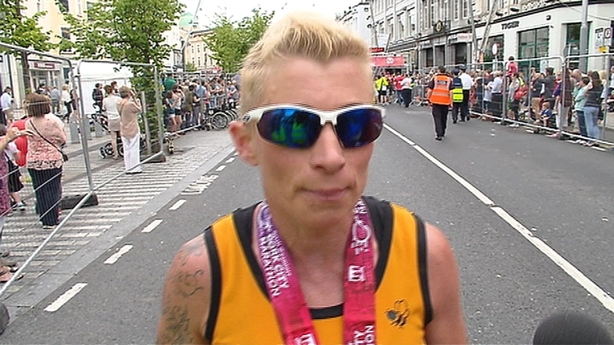 The Cork City half Marathon was won by Peter Somba in a time of 1.11.20 with Sergiu Ciobanu, controversially left out of the Irish marathon team for the Rio Olympics, in second place.
Aoife Cooke was first woman home in the Half Marathon.
Joe and Kay O'Regan, an 80-year-old couple from Co Wexford, finished the marathon hand-in-hand in a time of 5 hours and 25 minutes.
Joe and Kay O'Regan from Co Wexford finished the Cork Marathon hand-in-hand today to celebrate their 80th birthdayshttps://t.co/GrgQBYzDHf

— RTÉ News (@rtenews) June 6, 2016
Great work by all the volunteers along the #iecorkmarathon route @TheCorkMarathon pic.twitter.com/VmO783J8i8

— Jennie O'Sullivan (@OSullivanJennie) June 6, 2016