Eight-storey high apartment blocks will be allowed across Dublin city following a vote by councillors to allow increased building height in the new development plan.
 A new definition of 'low-rise' will allow buildings up to 24 metres high in all areas between the canals allowing for eight residential floors.
The maximum for commercial remains at 28 metres or seven floors .
It is a 33% increase in height for residential building height.
Councillors voted against a management proposal for 28 metres or nine storeys with many arguing that increasing to that height would harm the low rise nature of the city.
Sinn Féin - the biggest party on the council - voted in favour with group leader Cllr Seamus McGrattan saying "lowering the height would send out the wrong message about what we're about. Sinn Féin's priority is housing and that's why we are supporting this."
 But the 28 metre height was defeated by 33 votes to 18.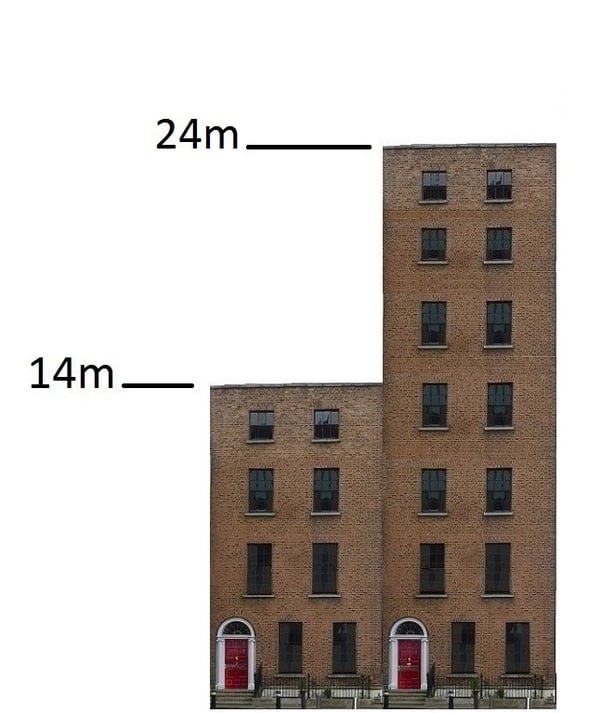 (A 24m height building in relation to a typical Georgian building in Dublin Pic: An Taisce)
Councillors also voted against increasing the maximum height for low rise residential buildings outside the canals and that will remain at 13 metres or four floors.
But within 500 metres of any rail station including DART, LUAS and proposed Metro or Underground DART stops it will be 24 metres, equivalent to an eight storey apartment block – an increase of two floors.
Another nine  areas in the city and suburbs have been designated for mid-rise up to 50 metres allowing for 16 storey apartment blocks and four areas in the city centre will high rise designation in excess of that.
All new developments would be subject to planning permission and council officials pointed out that any design will have to take account of prevailing local height whether it is two storey terrace or seven floor commercial storeys.
The draft plan states that any new development proposals "must demonstrate sensitivity to the historic city centre, the River Liffey and quays, Trinity College, the cathedrals, Dublin Castle, the historic squares and the city canals, and to established residential areas, open recreation areas and civic spaces of local and citywide importance". 
The development plan will allow for high rise buildings in excess of 50 metres at four locations in the city centre in the Docklands, Georges Quay  and near Heuston and Connolly Stations.
Mid-rise up to 50 metres or the equivalent of 16 residential or 12 office stories will be allowed in nine areas including the Digital Hub on Thomas St and St Teresa's Gardens both in the South Inner City.
Mid-rise will also be allowed in Clongriffin/Belmayne, Clonshaugh Industrial Estate, Oscar Traynor Rd and Ballymun on the northside and in Ashtown/Pelletstown in the west as well as  Park West/Cherry Orchard and Naas Rd in the southwest.