The Policing Authority has described as "unacceptable" the level of service given to crime victims and has told Garda Commissioner Nóirín O'Sullivan that it requires an urgent response from her in relation to the findings and recommendations of the O'Higgins Report. 
Commissioner O'Sullivan and the authority met this afternoon for four hours. The O'Higgins Commission report was the only item on the agenda. 
In a statement tonight, the authority expressed its dismay at the performance and management failures highlighted throughout the O'Higgins report, as well as its deep unease at the culture and environment in relation to speaking out.
It expressed concern regarding the impact these issues are having on the good work of the gardaí. 
The authority has said it has advised the commissioner to publish the Garda Síochána Protected Disclosure policy at "the earliest possible date".
It also wants information to enable it to assess Commissioner O'Sullivan's modernisation and renewal plan and it wants an external independent culture audit to be carried out.
It said it told the commissioner that it expects to see a formal response to Mr Justice Kevin O'Higgins findings and this to be reflected in next year's policing plan and the garda's two year strategy statement.
The authority will hold two public meetings with Commissioner O'Sullivan in June for discussion on a number of issues.
It said that the agendas for the meetings will likely focus on "service to victims, protected disclosure and culture, and may also examine the O'Higgins recommendations in the context of other reviews such as those of the Garda Síochána Inspectorate."
TD makes new allegations about garda misconduct
A Sinn Féin TD has made a series of fresh allegations in the Dáil about malpractice by An Garda Síochána in Leitrim.
After saying the vast majority of gardaí in Leitrim were doing their job honestly, Martin Kenny made a number of allegations.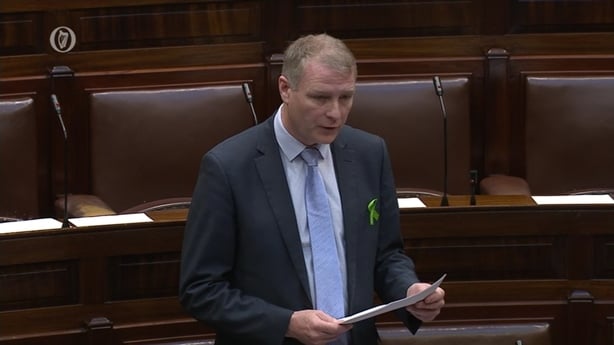 Mr Kenny said "gardaí were engaging informants who were active criminals in contravention of the CHIS [Covert Handling of Intelligence Sources] programme."
He also alleged that "gardaí were running their own informants outside of the CHIS programme.
"A third allegation is that some rogue gardaí have used informants or criminals they have control over to set up or entrap people for crimes and then prosecute these people.
"The fourth allegation is that there are high-ranking gardaí who have protected these rogue gardaí and covered for them with secrecy and denial."
Mr Kenny then proceeded to give examples of malpractice, including robberies allegedly carried out by informants under the direction of gardaí and claims senior gardaí did not inform other members of the force of plans by a criminal gang to carry out attacks at the homes of gardaí.
The Sligo-Leitrim TD said two members of the force brought their concerns regarding the handling of intelligence sources to then commissioner Martin Callinan in 2009, but they "were fobbed off".
He added that the allegations were also brought to then minister for justice Alan Shatter in 2012 and 2014.
Mr Shatter allegedly delegated two officials from his office, including one of his chief advisors, to meet with the garda whistleblowers, and most of the above concerns were expressed during a four-hour meeting.
Mr Kenny said "documented detail of all these instances were given to the minister at that time and nothing ever came from the meeting, save a letter from the minister's private secretary stating no action would be taken".
He then called on Minister for Justice Frances Fitzgerald to establish a Commission of Investigation into these fresh allegations.
Sinn Féin deputy leader Mary Lou McDonald this evening called on Ms Fitzgerald and  Ms O'Sullivan to respond to the allegations raised in the Dáil by Mr Kenny.
Speaking on RTÉ's Six One News, she said the allegations were extremely serious and long running. 
She said they had been lodged and raised in the system but they had not been dealt with satisfactorily. 
She said another Commission of Investigation had to be an option but initially the minister and Garda Commissioner had to respond.
Taoiseach briefed on gang violence
Last night, Commissioner O'Sullivan and a number of senior officers briefed Taoiseach Enda Kenny and the Minister for Justice on gang-related violence in Dublin's north inner city.
It followed the fatal shooting of Gareth Hutch two days ago.
His killing was the seventh linked to a feud between the Hutch and Kinahan criminal gangs.
Chief Superintendent Pat Leahy, who is leading the investigation into four gang-related murders, including the killing of Gareth Hutch, has said he is confident gardaí can solve them.