Independent TD John Halligan has told RTÉ News that he will support a Government counter-motion to suspend water charges and set up an independent commission to look at the issue, which will lead to a Dáil vote on the matter.
The Minister of State for Training and Skills had earlier said he would probably support a cross-party motion calling for the immediate abolition of domestic water charges.
Right2Water TDs have launched the motion, signed by 39 TDs, to get rid of Irish Water and water charges.
Speaking to Today FM earlier, Mr Halligan said he is yet to see the motion and exactly what the wording is, but he said Irish Water is not fit for purpose.
Mr Halligan said there are free votes in the Dáil as "the Whip has been been removed" and "we have to have a vote of conscience and in conscience I don't agree with Irish Water and it should be scrapped".
The Independent Alliance is to meet tomorrow to discuss the Right2Water motion.
Right2Water has called on Fianna Fáil to vote in favour of the motion on Wednesday night.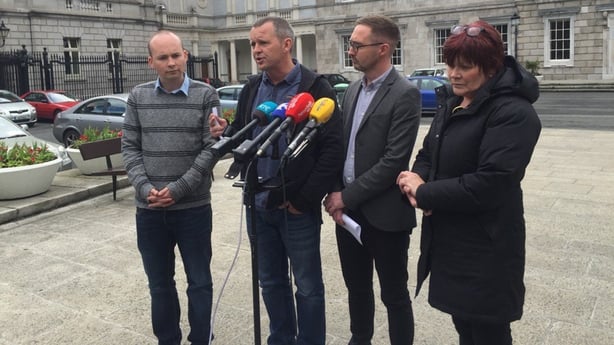 Four TDS - Eoin Ó Broin, Richard Boyd Barrett, Paul Murphy and Joan Collins - appealed to Fianna Fáil to support it. They also appealed to the independent TDs supporting the Government.
Mr Ó Broin warned that water charges could return unless officially abolished by legislation.
Deputy Ó Broin said his party was in favour of the establishment of an independent commission which would examine ways to achieve the "best model of service delivery" for water.
He said that while he believed Irish Water should be abolished, a proper public service utility would still be necessary. But he said the body would not be a commercial enterprise.
Mr Ó Broin said that Sinn Féin was calling for the establishment of a public water and sanitation board to deliver water services, which would be paid for through general taxation.
Fianna Fáil Spokesperson on Housing, Planning and Local Government Barry Cowen TD this afternoon said his party will table a counter motion on the issue of water charges and the future of Irish Water.
Mr Cowen said, "We are putting forward our own amendment to this motion, which sets out a clear path to end water charges through legislation as agreed in the Confidence and Supply arrangement which facilitates this Government.
"This sees the immediate suspension of water charges and the establishment of an expert commission to recommend how best to finance our water service into the future. It will then be up to the Dáil to decide the best route forward.
"When it mattered - when the Dáil was trying to form a government, Fianna Fáil did the hard negotiating and achieved a path forward on water charges and Irish Water, while others stood on the sidelines and sniped.
"As a result of that work, legislation will now come forward to stop bills being issued until such times as a majority of deputies in Dáil Éireann vote for their reintroduction."
Meanwhile, on the issue of potential job losses if Irish Water is scrapped, all four TDs representing Right2Water said no non-executive would lose their job at the utility or have their pay deducted.
Mr Boyd Barrett said they would have to look at the contracts as they want water metering to stop.
On the issue of rebates for those who have paid their water charges, AAA-PBP is in favour of this; Sinn Féin and Ms Collins said they would have to look at the matter.
Mr Boyd Barrett wants €100m to be retained for a generous conservation grant for water harvesting.